KASAMA Vol. 20 No. 2 / April-May-June 2006 / Solidarity Philippines Australia Network
a dialogue between Indigenous and Asian Australians
Filipino-Australian Deborah Ruiz Wall, Adam Aitken of Anglo-Thai heritage, and Alexis Wright of Aboriginal-Chinese heritage, featured at the 27th May 2006 Sydney Writers Festival event in the Liverpool Regional Museum. The following are extracts from Deborah's talk.
The question that confronts us in this dialogue is: in the historical way in which we think of the contestation between Indigenous and Asian Australians, does the Asian have its own unique qualities or its own dynamic?
I believe that in our relationship with Indigenous people, there will always be a point of reference. The most glaring one is the continuing impact of colonialism. For Asian-Australians today, we can look in the rear view mirror to see how far back in history our interactions with Indigenous peoples can be marked and the nature of our interactions, even before colonialism.
Prior to 1788, there was no White history in the north of Australia. In Western Australia where the pearling industry thrived, poly-ethnic communities existed, mostly Asians. On Thursday Island in the late 19th Century, the majority of the population were Asian, consisting mainly of Chinese, Japanese, Sri Lankans, Malays and Filipinos (who were called Manila men).
The problem today is the fixation on non-Anglo Australians to embrace mainstream core values if they want to stay in Australia. However, there is a hidden agenda in this seemingly harmless expression, 'mainstream core values'. The question we can all ask is: whose core values and culture are excluded from the so-called 'mainstream'? Or to turn it around: whose core values should be included, for example: the kinship system, our collective identity as Australians, respect for land and the environment?
Sadly, the white/black conflict is marked by enduring attitudes of racism and discrimination, intolerance of difference, reinforced by the popular media. With a 'blame the victim' mentality picked up from the media and national leaders, the average Australian would probably have a mixture of emotions such as confusion, hostility, apathy, despair. Many, despite their lack of in-depth information, would more than likely have strong views nonetheless.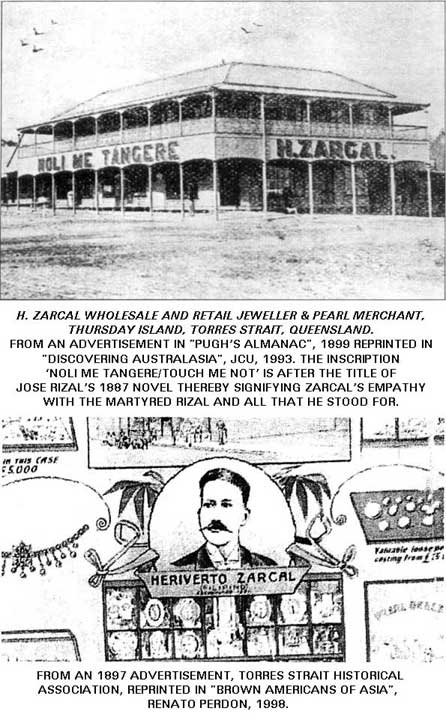 Today, with a nearly 20-year gap in life expectancy compared to the average Australian, Indigenous disadvantage is far worse than in similar countries with Indigenous populations such as Canada, New Zealand and the U.S. Access Economics 2004 report documented the critical under-resourcing of Indigenous health by Australian governments with a shortfall of $452 million a year.
At the beginning of the foundation of Australia's nation-state during Federation in 1901, the leaders of the six colonies were motivated to unite because of fear. They would have seen themselves as displaced Europeans in a continent surrounded by 'Oriental hordes'. I believe, this fear of the so-called 'Yellow Peril' descending upon the White colonial outpost has continued to be internalized by the descendants of the founding fathers. In psychological terms, it is the fear of difference. But in today's post modern world, difference is what we hold in common and so the persisting challenge in Australia today is how to negotiate difference.
In regard to Filipinos' dialogue with Indigenous Australians, I wish to point to our shared experiences of racism and discrimination by relating stories of my Filipino compatriots.
Case 1: Heriverto Zarcal
Prior to Federation, a Filipino, Heriverto Zarcal came to Australia. He arrived on Thursday Island in May 1892. Within three years of arrival, he was operating a successful business in the lucrative pearl-shell industry. In May 1897, Zarcal became a naturalised British subject in Queensland. At that time, a European Thursday Islander complained in the local press that Zarcal as 'a naturalised Manilla man…(was) reported to be importing several luggers and a schooner to work on the pearling grounds.' The writer who called himself 'Torres Strait for the Whites' asked rhetorically, 'Shall we suffer the men who ought to be our servants to become our masters?'
Another letter writer, James Clark, a successful European pearl-sheller in northern Australia and a leading campaigner against the acquisition of pearling licences by Japanese, wrote: 'naturalisation is a farce, and all naturalization papers of Asiatics should be cancelled. Take Mr Zarcal's case for example. He gets naturalized here, but will anyone take him for an Englishman in Manilla, where anyway his naturalisation does not give him the protection of a Britisher? Therefore he is a Manilla man in Manilla and an Australian here. If Mr Zarcal wishes to carry on his business of pearl buyer let him go back to his own country; he can get both pearls and shell there; we want ours for our own people.'
Case 2: Lorenzo Gamboa
Lorenzo Gamboa, a Filipino sergeant serving in the American Army was evacuated to Australia with the commander of the Philippine and American forces, General Douglas MacArthur, during the Second World War. After the war, the Minister for Immigration, Arthur Calwell, deported Asians who stayed in Australia as refugees from the Japanese invasion of their homelands. To give force to this policy, the Wartime Refugees Removal Act 1949 was passed.
While stationed here, Lorenzo Gamboa married a Melbourne woman and they had two children. Although he was not a refugee, the government asked him to leave the country after he was discharged from the army in 1946. Despite his acquisition of U.S. citizenship, he still failed to convince the Australian government to allow him to stay. It would have been different had he been white. During his absence from Australia, his wife, Joyce Gamboa campaigned tirelessly through extensive press interviews and a complaint lodged with the United Nations for her husband to be allowed to return to her family. It took six years before Gamboa could join them. Zarcal and Gamboa faced racism and discrimination because of their colour.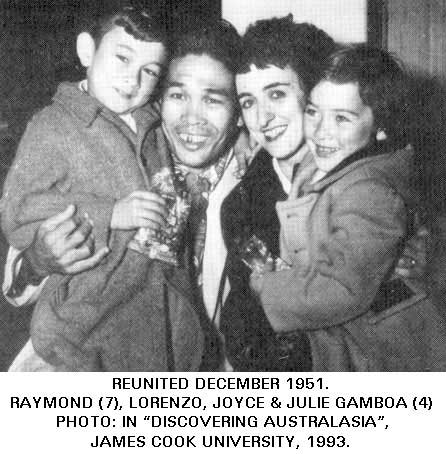 Case 3: Vivian Alvarez Solon
In our time, Vivian Alvarez Solon, an Australian citizen, fell victim to discrimination and racism when she was illegally detained and deported to the Philippines. The Federal government has admitted its error and now is facing compensation claims because of the bungle.
What do these cases illustrate?
1) Whiteness was seen as a prerequisite for naturalization (as in Zarcal's case);
2) Europeans were prepared to employ Asian labour but not to have them as business rivals;
3) Even if they were naturalized, non-Europeans were not regarded as 'locals'; and
4) The deportation of an Australian citizen, a fragile, sick woman from an Asian background, seems to me, to reflect racist attitudes originating from our colonial past.
The alliance of Indigenous and Asian Australians are at times fragile. Whilst Aboriginal writers such as Jack Davis and Oodgeroo Noonuccal (Kath Walker) opposed assimilation, they would have frowned upon subsuming Aboriginal issues under multicultural affairs. Instead of Indigenous and Asian Australians uniting against assimilation, they might see themselves as rivals rather than allies. Ethnic communities successful in lobbying for government funding were sometimes accused of being part of an 'ethnic industry' and I can recall critics of Aboriginal projects referring to an 'Aboriginal industry'.
Such name-calling serves no purpose other than to divide Australians against each other. Rather than engage in useless diatribe, one could focus instead on the fact that all settlers here are beneficiaries of the land taken from Indigenous Australians.
It is not a question of wearing a 'black arm band' to make us feel guilt and shame with the way European colonialists mistreated the traditional owners of the land, as Mr Howard, the Prime Minister would have us believe. Rather, it is about acknowledging our collective identity, respecting our traditional owners and embracing the entirety of our Australian stories.
I too, in a sense, am a cultural hybrid. I have at least a bi-cultural heritage as an Asian Australian who has settled here for over half my life. I am married to an Anglo-Australian. We have two sons with a combined heritage of Filipino, Spanish, Chinese, English, Irish, French, and a daughter-in-law from Poland. We are a family who make no apologies for our hybridity as Australians. I have close Aboriginal friends and have been involved in the reconciliation movement for many years. My own partiality as an Australian with regard to a different sort of contestation between Indigenous Australians and descendants of Anglo Celtic settlers, is based on a growing awareness of what is at stake.
My poems on reconciliation reflect my deepening involvement with Indigenous issues which I consider to be of national significance for all Australians, if we are to move forward and have peace in this country.
As Aboriginal poet, Anita Heiss observed, the dialogue has already been going on in the arts and literature. This dialogue through the arts plays a role in creating a new script for social relations by broadening the level of awareness of other untold Australian stories. For example:
Gary Lee's play Keep Him my Heart A Larrakia-Filipino Love Story, performed in 1993 is based on the writer's great grandparents' successful fight with authorities to remain together;
Around the Kitchen Table, is a video produced by the Women's Reconciliation Network in 1998 in which Aboriginal Australians, Torres Strait Islander Australians, Anglo-Celtic Australians, and non-Anglo/non-Aboriginal settlers tell the stories about their backgrounds and their belief in the reconciliation movement; and
Ephemera — The Reconciliation Monologues, a play devised by Eora TAFE College drama teacher, Liza Mare Syron, based on the work and life experience of her Aboriginal and Asian students, was performed at the NIDA Studio Theatre in 2005.
A fine example of breaking down stereotypes through humour is the 2001 production of Black and Tran, a satirical comedy featuring Ningali Lawford and Hung Le based on conversations between an Aboriginal woman and a Vietnamese man.
And there are many Indigenous and non-Indigenous writers who engage political and social dialogue on issues of reconciliation, race and identity, such as:
Token Koori, a collection of poetry by Anita Heiss, Curringa Communications, 1998;
'Embracing the Indigenous Vision', an essay published in the literary journal Meanjin, Vol. 65 No. 1, 2005; and
Reconciliation, love and other poems, a collection of my poetry, written from my perspective as a non-Indigenous/non-Anglo Australian engaging with Aboriginal issues and concerns, which was published this year by the Women's Reconciliation Network.
Our dialogue is often about our identity as Australians. In my own work, I acknowledge my Asian heritage and try to gain an insight into what binds Indigenous and Asian Australians and how each conceives the other. An example is the first poem I wrote about Aboriginal issues in 1987 when an Aboriginal participant walked out of our TAFE Summer School workshop on conflict resolution. In my poem, 'Reconciliation', I acknowledge Aboriginal dispossession and continuing oppression. I saw that their conflict with colonial powers had not been resolved. Reflecting on 'multiculturalism', I wonder whether Indigenous people see us, new settlers, as their new oppressors.
I would like to read this poem in my native language for my compatriots who are here with us, followed by the English translation.
PAGKAKASUNDO
Sa aking kinatatayuan, may bahid ng dugo ang lupaing wari'y sunog sa silahis ng araw, dugong saksi sa pagtangis ng mga sinupil at inapi.
Ipikit mo ang iyong mga mata, pakinggan mo ang hinaing ng hangin, ang misa para sa mga yumao, umaalingawngaw ang patuloy na labanan, at utang na di nabayaran.
Itong susing pakikiramay na isinalya mo sa aking kamay: ito ba ang aking kailangan upang maramdaman ko ang mga multo ng lahing sinupil?
Sila na ngayo'y lumilitaw sa mga pagpupulong upang umalsa, umaklas at tusukin ang ating budhing multikultural, sila na mula sa pagkawalang-kinaroroonan!
Huwag nating kitliin silang muli mula sa patalim ng salita upang mapawalang-saysay ang sumasabog nilang kapootan.
Sa katotohanan, di natin maaaring palitan ang nakaraang kasaysayan, nguni't dapat ba nating ipagpatuloy ang paghalay sa karapatan nilang magkapangalan batay sa kutang multikultural upang ikubli ang natitira nating kasalanan?
Salaminin ang kanilang pangangailangan nguni't sa pamamagitan ng durungawin ng sinupil na kasaysayan.
Ipikit mo ang iyong mga mata sa iyong kinatatayuan, pakinggan mo ang hinaing ng hangin, ang misa para sa mga yumao, ang luha ng mga katauhang nangangamba sa panibagong paglusob sa kanilang lupain mula sa ibang larangan.
RECONCILIATION
Where I stand, blood stains
the sunburnt soil,
mute witness to the cry
of the oppressed, repressed, dispossessed.
Close your eyes, stand still and tune in
to the requiem of the wind
echoing continuing
unresolved conflict
and unpaid debt.
'Empathy key' you shoved
in my hands –
is that what I need to perceive
why the phantoms
of a 'vanquished' race make
their apparition in conferences,
stage walkouts to pierce
our multicultural conscience
with their omnipresence?
Pray, let us not slay them once more
with our word swords
to nullify their blazing anger.
True, history we cannot reconstruct
but must we repeatedly rape
their right for a name
with our 'multicultural' fortress
to conceal the remnants of our sins?
'Mirror their needs' indeed
but through the looking glass
of repressed history.
Close your eyes, stand still and tune in
to the requiem of the wind –
the woes of a people
fearing a fresh invasion
on an alternative front.
Identity is something so precious to Indigenous Australians. Anita Heiss said that much of what Aboriginal poets write today is political because they raise issues such as the politics of identity, the consequences of colonisation – dispossession of their land, high incarceration rates, the Reconciliation movement. Poetry is a way to assert Aboriginal identity.
What adds another dimension to Indigenous Australian identity is hybridity – the Aboriginal of mixed descent. This is what European settlers in the nineteenth century feared – losing control of their dominance and power when people mixed their heritage and culture: Aboriginal-European, Aboriginal-Asian, Aboriginal-Asian-European. There is a choice of identity beyond the black/white contestation, a choice that allows consideration of multiple visions.
But however close the alliance is between Asian and Indigenous Australians, we need always to be aware of our difference which also needs to be acknowledged. As an example, former Race Commissioner Irene Moss who could see the potentially close relations between Indigenous and Asian Australians had said, "Australia must work through its identity crisis. It is an Asian nation with a European heritage."
This statement was not at all well received by Shirley Smith (Mum Shirl), the late iconic Redfern black leader, who retorted: "There is only one way Australians can belong here. This is not part of Asia… Irene Moss needs to understand this… We are your only true connection to this continent, to this entire region. We are the land, and we are here forever."
In conclusion, I believe that we Asian-Australians and Indigenous Australians have some options in continuing our dialogue as writers.
We can choose to play a positive role by informing ourselves, engaging with each other in understanding policies and legislation that undermine our humanity and fundamental human rights, using our art form in what unites us as Australians.
We can help break down stereotypes while exploring issues of identity and belonging by focusing on the basis of our alliance in countering racism and discriminatory practices and telling our individual cultural stories as a contribution towards an inclusive Australian story.
Our identities are not entirely fixed, as we all, to some extent, have to adapt to change. Even Aboriginal and Torres Strait Island cultures have to negotiate with each other. Nevertheless, we oppose a definition of our identity by a dominant majority culture bent on 'mainstreaming' our cultures. We can show respect for each other's culture while we work towards constructing a cohesive Australian identity.
What we all need today is to apply deep listening, engage with Indigenous issues, address Indigenous disadvantage and focus on what connects us, what is positive and what will move us forward as Australians.