KASAMA Vol. 20 No. 2 / April-May-June 2006 / Solidarity Philippines Australia Network
Making dreams come true in the Philippines:
Helping Children Smile Inc.
Since its first mission in 1996, Helping Children Smile Inc. has provided a brighter future for more than 400 children in the Philippines. Lyn Nielsen, one of the crew of volunteers who raise funds and administer the project, brought our attention to the work they've been doing for the past 10 years.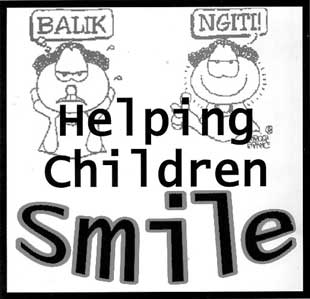 FOR TWO WEEKS from 12—26th February 2005, Associate Professor Frank Kimble and Mr Craig Quarmby, staff specialists from the Royal Hobart Hospital's Burns and Surgical Specialties Unit, along with a small team of medical volunteers, set out on a mission to improve the lives of children and young adults in the Philippines. Their aim was to provide reconstructive surgery and 'new lives' to people who could otherwise never afford the treatment.
The team specialises in repairing cleft lips and palates, conditions that can be both physically disabling and severely disfiguring. And unfortunately due to the stigma that surrounds these conditions, they can affect children by limiting their opportunities to attend school, and prevent adults from finding employment.
This wonderful work is coordinated by a voluntary Queensland organisation called Helping Children Smile Inc. From proceeds raised by donations and fundraising, this organisation manages each year to gather a first class medical team, as well as cover all accommodation and surgical costs. The Royal's Pharmacy Department assisted the organisation this year by providing some of the antibiotics needed for the trip, thanks to their 'gold coin donation' fundraiser.
The 13-person medical team consisting of surgeons, anaesthetists and nurses arrived in the Philippines and immediately began setting up their operating theatre in a local hospital in Tuguegarao City, Cagayan Province.
Over the next eight days, the team worked from 8 am until "whenever we'd finished", carrying out pre-operative assessments, preparing patients for surgery, performing 90 operations, providing post-operative care and giving 62 patients a chance to look forward to normal lives.
Why do they do it? Why does the team offer their time and expertise at no cost? And why do they work long exhausting days using their own equipment and materials, in less than ideal conditions? Satisfaction is the answer. "I get back far more than I put in," Frank Kimble says. "In fact, I'd even pay to work with the team!"
The team's satisfaction was summed up in a recent email sent to Associate Professor Kimble by one of the patients. A young disfigured woman who had difficulty speaking prior to her surgery wrote: "Thank you for making my dreams come true."
[Edited from: Staff News, Royal Hobart Hospital, Issue 1, April 2005.]

HELPING CHILDREN SMILE INC. (HCS) is a registered charity based on the Sunshine Coast, Queensland, Australia. HCS receives no Australian or Philippine Government funding. It relies entirely on fundraising activities and donations to cover the travel costs, accommodation and surgical equipment which is transported to the Philippines by the mission members so as not to incur any costs to the host hospital. Team members give their time and expertise at no cost. The host hospital offers the use of their operating theatre, recovery and ward beds.
The medical teams consist of qualified plastic surgeons, anaesthetists, registered and enrolled nurses. They are responsible for pre-operative assessment, preparation and intra-operative care, as well as post operative care including wound management and suture removal.
Medical companies help by donating some supplies. Any hospital fees, pathology, radiological, transfusion, and intensive care nursing are met by Helping Children Smile Inc., who liaise with a local government or community group such as Rotary, Kiwanis or Soroptimists to assist with some of the costs.
There is no cost to the recipient and their family. Normally, this surgical procedure is not available to poor and underprivileged people.
Each operation costs approximately Aus. $250. Any assistance you can afford would be most welcome. Donations over $2 are tax deductible.
HELPING CHILDREN SMILE INC
Contact Details:
SECRETARY: Bernice Mclennan
EMAIL:
mackie@sun.big.net.au
PHONE/FAX: 07 54942561
PRESIDENT: Neil Boulton
EMAIL:
flexineil@flexinet.com.au
PHONE: 07 54413338
Registered Postal Address:
Helping Children Smile Inc.,
100 Maleny-Kenilworth Rd
MALENY QLD 4552
Visit the HCS web site at
http://helpingchildrensmile.org.au
and the HCS Charity Shops at 34 Queen Street and 33 Howard Street, Nambour QLD.
Helping Children Smile Inc. meets every 3rd Monday of each Month at 7 pm in the Ante Natal Clinic, Nambour General Hospital.
HELPING CHILDREN SMILE INC.


2005 MISSION REPORT
12 – 26 FEBRUARY
TUGUEGARAO CITY, CAGAYAN PROVINCE, PHILIPPINES
Compiled by Mark Sierakowski, Mission Co-Ordinator
Getting Ready
With the usual last minute flurry of emails, obtaining equipment and packing suitcases, the Tuguegarao mission got away as planned. Thanks to Lorry Rowe and her team at the HCS Inc. Charity Boutique and the fund raising work of all members, this mission was able to become a reality. Bernice McLennan maintained the communication channels with Tuguegarao, usually with Mayor Ting, and a Rotarian, Pichoy, to ensure arrangements were understood and confirmed. All mission members had supplied their details for professional registration with the Dept. of Health in Manila. Team members notified DFAT and had their vaccinations updated. Flights were booked and insurance obtained for the mission. All our luggage contents (including halothane) were notified to Qantas and okayed.
The Team
We were fortunate to have two new surgeons, Associate Professor Frank Kimble and Dr. Craig Quarmby, from the Royal Hobart Hospital, join the mission this year with Dr. Damian Castanelli from Melbourne and Dr. Steve Mitchell from Nambour providing anaesthetic services. All the nursing staff, including myself, came from the Sunshine Coast, Queensland. With nurses Erin McIntosh, Phil Bartlett, Tracey Madden and Vonnie Burton working in theatre, pre- and post-operative care was attended by nurses Bernice McLennan, Lisa Torrens and Lyndal Pool. Lyn Nielsen, our non-clinical member, assisted me with screening patients and sorting out emergent problems. We also had Sarah Morgan, a journalist, on the team.
Departing Australia
The Queensland contingent met at Brisbane Domestic terminal at 7:30 in the morning on Saturday 12 February for a "group book-in". After wildly attaching the necessary luggage tags we finally dispatched our 45 suitcases, weighing 780 kgs, through to Manila. On arrival in Sydney we were rushed through to the international terminal. We met up with Frank and Craig on the terminal bus and Damian was already seated on board.
ARRIVING IN THE PHILIPPINES AND GETTING SET-UP

Saturday 12 February
As usual, Supreme Court Judge Lore Veneracion was at Manila airport to meet us and by flashing his credentials he ensured the team had a smooth passage through customs. Unfortunately Frank's personal luggage did not arrive in Manila. We met with Mayor Ting's brother, Paul, and one of his clerical staff, Socorro, who escorted us onto a large passenger bus for the trip to Tuguegarao.
We reached Cabanatuan, our first night's stop at 11:15 pm, where we met up with Jeremy Simpson and the patients travelling from Olongapo. We all dined together and retired exhausted after a big day of travel.
We left Cabanatuan on the bus at 0915 and headed north. After a few 'food & water' stops we arrived in Tuguegarao at 1730 and unloaded at the Roma Hotel, about 100 metres from the People's Emergency Hospital where we were to work. We then had dinner with Mayor Randolph Ting, his wife, Nancy, and other councillors. It was great to meet up with our Queensland mates holidaying in Tuguegarao, Tony and Lillia Frost from the Sunshine Coast, Gloria Mayon from Brisbane, along with Hilda and Ferdie de Leon from the Gold Coast. It was Hilda and Ferdie who initiated this mission as they were Tuguegarao residents before coming to Australia.
The Mayor's brother, Councillor Mike Ting, became our official minder to help us with any local issues. Mayor Ting was an exceptional host. He is a middle aged family man who firmly believes that helping the younger citizens with education and health issues will lead to a better future for all the people of the city. He took over the Mayoral reins from his father and is now in his second term as a highly respected and very popular leader.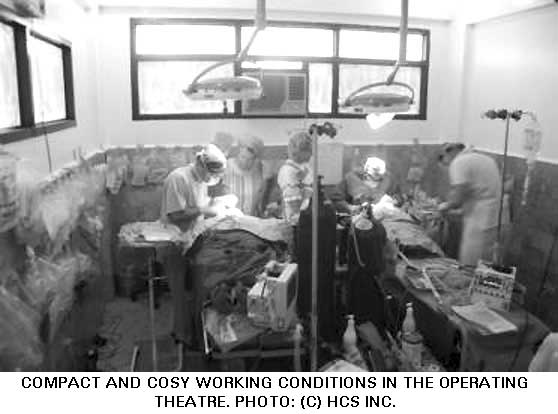 Monday 14 February
With the nearby church bells tolling at 4:30 am to gather the congregation, after breakfast we headed to the Hospital for a tour with the Medical Chief of Hospital, Dr Ray Duhig. Then our work started in earnest — the task of organizing our clinical supplies and starting to screen all the patients. The Hospital staff were most accommodating and helpful. The theatre nurse manager, Candi, was an absolute gem.
The Hospital cancelled surgery for the duration of our stay and we set up two operating tables very cosily in a small theatre. The other theatre held all our stock. We had a recovery room outside the theatres with two beds and upstairs a student lecture room was set up for screening. Along from the screening room were two wards – each holding about 10 beds – one of these wards was given to us for HCS patients. All the beds had mattresses and a green sheet cover. And we even had IV poles! Transporting the post anaesthetic patients up the stairs to the ward was interesting. Patients were carried on a stretcher by the wardsmen as there was no lift.
In the first day of screening, 52 patients were seen and the surgery schedule started to take shape. That evening the Mayor organised for the team to attend a St Valentine's Day celebration at a local Christian association.
DAYS OF SURGERY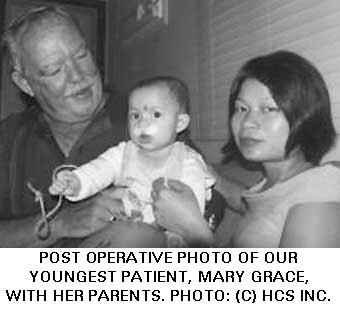 Tuesday 15 February To Wednesday 23 February
The surgical workday started at 8:00 am and most times went smoothly. Occasionally a patient may not have fasted properly and the surgery schedule was adjusted. Only two patients scheduled for surgery did not return as planned. Screening continued as more patients came to the Hospital throughout the week.
We were most fortunate that the Medical Chief had an excellent computer set up in his office which he allowed us to use. Maynard, a young man from the Mayor's Office, assisted Lyn in managing the patient photo records.
Each morning the previous day's patients were checked, their wounds treated prior to discharge, and the recovery staff ensured they were adequately hydrated and understood their post-op instructions. Some clinical resource issues arose: the Clements suction unit leaked oil; we were unable to buy aqueous chlorhexidine; our supply of 5/0 sutures ran out but eventually we found some locally and got some sent from Manila courtesy of Johnson & Johnson. Thank you, J&J!
We also had two serious clinical crises. On Wednesday, a one-year-old boy, Christian, developed a severely low pulse following intubation, so the surgery was cancelled and he was actively resuscitated, regaining alertness some 10 hours later! Then on Friday, a 13-year-old boy, Wifredo, developed a life threatening cardiac rhythm anomaly which required defibrillation. Unfortunately the Hospital didn't have a defibrillator so Dr Duhig rushed to another Hospital to get one. The theatre staff applied life support measures to Wilfredo for 20 minutes awaiting the defibrillator. Incredibly when the machine arrived, Wilfredo spontaneously reverted to a normal cardiac rhythm, and the antiquated machine was not used. We must ensure we take a defibrillator on all future missions to treat this rare but fatal medical crisis. Inevitably Wilfredo's surgery was also cancelled which made him most upset once he regained consciousness but he was very lucky to survive!. We promised him and his mother that we would help him, so we arranged for a local dentist to fit an obturator to cover his palate defect. HCS Inc. met the cost of this and the dentist promised to fit another obturator in six months time as Wilfredo grows bigger.
We certainly appreciated the Mayor providing daily lunches at the Hospital. Socorro and Mike visited frequently to assist with any problems. Lilia, Hilda, Gloria and Ferdie were excellent in translation with patients and their families. Most of the Hospital staff spoke good English and also readily helped when needed. The working day finished about 6:00 pm and after checking the patients, we met to dine together at a local restaurant.
We had varied cuisines and, of course, plenty of San Miguel to stay hydrated in the humid weather. The tempura vegetables were especially enjoyed by the two vegetarians in the group and had others seriously considering a lifestyle change. We celebrated Lisa's birthday in style with a huge 'Barbie-doll' cake in our little tea room at the Hospital and later in the evening, some of team still had excess energy to burn so they headed to the disco to mix it with the locals!
On the Saturday evening, the team were hosted by Hilda's father, Max, who had a neighbourhood party to celebrate his new residence and his great grandson's christening. We had lechon and many other Filipino delicacies. It was a night of good fun. On Sunday, we had a day off, so after checking on the patients we set off in a convoy to visit the Callao Caves — a most impressive series of vast caverns, one of which holds a chapel. We had a picnic lunch and then took a ride along the Pinacanauan River in long slender canoes and met with some Aeta people from a nearby village. A very relaxing day spent seeing the countryside and also the opportunity for some shopping at the market.
SURGICAL OUTCOMES
A total of 92 patients were screened with 61 receiving surgery. Of those who did not receive surgery the most common reason was that the child was too young. Several children presented with chest infections and were given antibiotic therapy but were not suitable for a general anaesthetic. The youngest patient to receive reconstructive cleft surgery was eight-months-old and the oldest patient with a cleft repair was 47 years. The oldest patient to receive surgery was 72 years. Other anomalies presenting outside our scope of practice included encephalocoeles, nasal polyps, hygromas and very wide cleft palates, as well as one very happy toddler, John Philip, with a bilateral facial cleft. The surgeons are hoping to get some of these patients treated in Australia.
Despite a front page article in the local press, the number of cleft children presenting for surgery waned after the first few days. Unfortunately it seems that the mission was not promoted to people in the surrounding villages as well as it could have been. Consequently we had surgical spaces for other candidates. So some adults had lipomas removed and tongue releases attended. All patients truly appreciated the opportunity for the free surgery.
FINANCES
Most team members paid cash for their contribution towards the travel insurance. This money was converted to pesos and used to pay meal and accommodation costs. We also received a large donation from the parents of one of the patients and Frank donated his compensation when his lost luggage was returned via Korea. A donation from Olongapo paid for meals and accommodation. The Hospital did not charge the mission for any pathology, radiology or pharmacy supplies. The cash we brought from Australia was returned intact and deposited back into the HCS Inc. account.
THURSDAY 24 FEBRUARY
This morning was our last ward round and discharge of patients. Those from the previous week returned for a final check-up and later in the morning most patients who resided nearby gathered at the Hospital for a final farewell. It was a wonderful occasion to see the results of our work and receive the heartfelt gratitude of patients and their parents. Lots of photos were taken and addresses exchanged. Then it was into the ordeal of sorting and packing up all our equipment. A lot of the disposable gear we had in excess we donated to the Hospital along with surplus medicines.
That evening we attended a cultural exhibition of song and dance performed by secondary school students and Mayor Ting presented each team member with a plaque of gratitude and HCS received a large framed plaque signed by all the patients along with their photo. Afterwards all the cast of about 100 students and ourselves attended a buffet banquet in the Mayor's office. It was certainly a grand finale!
HEADING HOME

FRIDAY 25 FEBRUARY
We departed from Tuguegarao at 5:00 am next morning in our big bus to Manila. We stopped in Solano for breakfast, then a lunch hosted by Vicky at Cabanatuan and a site visit at the local Hospital for the 2007 mission. We arrived in Manila at 6:30 pm. It was a big day of road travel which was certainly tiring despite the sing-a-longs and DVD movies on the bus.
SATURDAY 26 FEBRUARY
As half the team was going to Boracay for 5 nights after lunch and the others were heading back to Australia that evening, it was a sad time for the team to disband around noon. We were a very successful team and felt privileged that we had the opportunity to make such a positive difference to many young Filipino lives with the support of Helping Children Smile Inc.
Congratulations to all the team members, you all did a marvellous job and it was a real pleasure working with you. And a special thanks to all the HCS Inc. members in Australia who enable these surgical missions to happen. Be assured that your efforts are truly appreciated by the patients and their families.
— Mark Sierakowski
This is an edited version of the helping children smile inc. 2005 mission report. You can access the full report online at http://www.helpingchildrensmile.org.au/mission%202005.htm
Cleft is a congenital deformity caused by a failure in facial development during gestation occurring somewhere between 1 in 600 and 1 in 800 births. There are several severities of cleft in two major categories: cleft lip and cleft palate. The terms "hare lip" or "hair lip" are sometimes used to describe the condition because of the resemblance of a hare's lip; however such terms are quite derogatory and old fashioned.
A cleft is a separation in a body structure. Clefts that occur in the oral-facial region often involve the lip, the roof of the mouth (hard palate) or the soft tissue in the back of the mouth (soft palate).
If only skin tissue is affected one speaks of cleft lip.
Cleft lip is formed in the upper lip as either a small gap or dent in the lip (partial or incomplete cleft) or continues into the nose (complete cleft). Lip cleft can occur as one sided (unilateral) or two sided (bilateral).
Cleft palate is a condition in which the two plates of the skull that form the hard palate (roof of the mouth) are not completely joined. The soft palate is in these cases cleft as well. In most cases, cleft lip is also present.
Palate cleft can occur as complete (soft and hard palate, possibly including a gap in the jaw) or incomplete (a 'hole' in the roof of the mouth, usually as a cleft soft palate).
During the first six to eight weeks of pregnancy, the shape of the embryo's head is formed. Five tissues grow: one from the back of the neck over the top of the head down towards the upper lip, two from the cheeks and meet the first layer to form the upper lip and two from each side form the chin and lower lip. If these tissues fail to meet, a gap appears where the tissues should have joined.
The cause of cleft lip and cleft palate formation is genetic in nature. A specific gene that increases three-fold the occurrence of these deformities has been identified in 2004 as reported by the BBC [1]. If a person is born with a cleft, the chances of that person having a child with a cleft, given no other obvious factor, rises to 7 in 100 (instead of 1 in 700). Folic acid reduces the odds slightly.
Clefting seems to be, at least in part, related to ethnicity, occurring most often among Asians, Latinos and Native Americans (1 in 500), next most often among persons of European ethnicity (1 in 700) and least often among persons of African ethnicity (1 in 1,000).
—Source: http://en.wikipedia.org/wiki/Cleft_palate