KASAMA Vol. 19 No. 4 / October-November-December 2005 / Solidarity Philippines Australia Network
WANTED! PHOTOGRAPHS FOR THE CENTENNIAL BOOK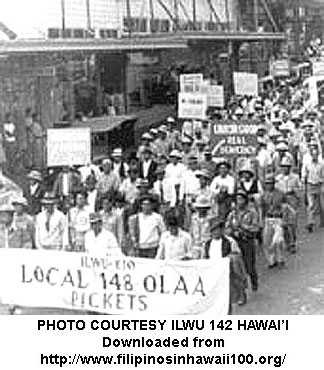 The Centennial Book Committee is calling on the public to share the photographs, documents, and other items that portray the struggles and triumphs of Filipinos in the islands for a two-volume coffee table book to be published in commemoration of the Filipino Centennial.
The book will depict Filipino life in Hawai'i (1906-2006).
Migration and history
Social, economic and political life (including community organizations)
Culture, arts and literature
Identity formation and issues
Sources of materials used in the book will be acknowledged. The deadline for receipt of pictures and materials is June 30, 2006.
Contact:
Filipino Centennial Celebration Commission, Centennial Book Committee
1617 Palama St.
Honolulu, HI 96717 USA
or phone the committee chair Raymund Liongson on 683-0143 or 455-0224 or by email: liongson@hawaii.edu