KASAMA Vol. 18 No. 4 / October-November-December 2004 / Solidarity Philippines Australia Network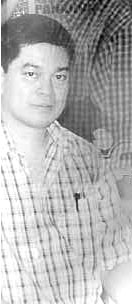 ALFRED GANAPIN passed away peacefully on 20th December 2004 at King Faisal Hospital, Riyadh, KSA.
He was admitted to the hospital almost a month before and courageously fought his illness day by day until his last hours.
Alfred was 43 years of age and had worked in veterinary medicine for the Ministry of Agriculture in Saudi Arabia where he lived since 1991.
Despite his busy schedule, Alfred was a passionate, committed advocate for the rights and welfare of migrant Filipinos. He campaigned for the enactment of the Philippine Absentee Voting Law and was a co-convenor of the International Coalition on Overseas Filipinos Voting Rights (ICOFVR) and a Namfrel volunteer during the absentee voting exercise in 2004.
Alfred's poetry reflects his good humour.
White

A genetic ghost waiting for its time
to come out of the dark,
A weed sprouting, one by one,
at first, unmenacingly;
But, then, like an army or
that great white shark,
Circling my crown of youth, invading
every space, not sparingly.

I look in front of the mirror and
cry out in dismay,
"Ah! Youth, are you leaving me?"
White hairs coming out not like
the 'darling buds of May*'
I have to ask someone to pick them
or dye them, even for a fee!

But I guess they'll win someday
and I have to give them the crown,
For even now, they have already
invaded my nostrils!
I can't help but look at myself
with a foolish frown,
That day may come, white hair and all,
Well? Am I thrilled!

- by Alfredo Ganapin, August 21, 1996