KASAMA Vol. 18 No. 2 / April-May-June 2004 / Solidarity Philippines Australia Network
COMPACT FOR PEACEFUL ELECTIONS
COMPACT PRESS RELEASE: May 14, 2004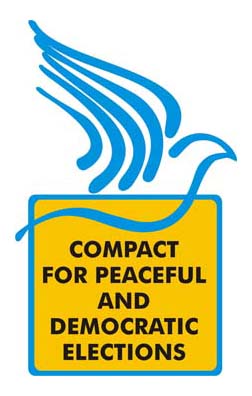 QUEZON CITY - In a press conference the Compact for Peaceful Elections International Observation Mission reported incidents of election related violence in selected hotspots in the country. On a mission conducted from May 6 to 12, the observation team covered Davao, Nueva Ecija, Agusan Del Norte, Cebu, Bohol and the Camanava area in Metro Manila. They observed that elections were not free from violence.
The foreign observers distinguished that "different levels and forms of violence are very localized." In the areas they covered, figures recorded by the Philippine National Police (PNP) do not reflect the real story. The PNP only considered bodily harm as evidence of acts of violence. Intimidation, threats and harassment which characterize Philippine elections abound but were not recorded by the police as violent incidents.
The observers spoke with Commission on Elections, PNP, political parties and candidates, civil society as well as voters in the areas they covered. Different political actors were reported to have committed intimidation, harassment, threats and physical harm to voters, supporters and campaigners. Some resulted to death. These political actors included political forces such as families, local bosses, their private armies as well as rebels and other armed groups.
Herman Schmid, member of the European Parliament, specially noted that "This is not just about reforming the electoral system but more importantly about reforming the whole political system." Schmid stressed that violence during elections can be meaningfully addressed by adapting a strong and platform-oriented party system rather than "personality-oriented political contests."
The team however pointed to two positive developments in the elections: the party-list system and absentee voting for overseas Filipinos. "The party list system gives marginalized groups the opportunity to be represented by non-traditional political parties," Pierre Rousset, adviser to the European United Left/Nordic Green Left Group in the European Parliament, said.
Melba Marginson, a former secretary general of the Alliance of Concerned Teachers who now resides in Australia, commended absentee voting that enabled overseas Filipinos all over the world to participate in the Philippine political exercise.
RELATED ARTICLES: