KASAMA Vol. 17 No. 4 / October-November-December 2003 / Solidarity Philippines Australia Network
The Call of the Mountains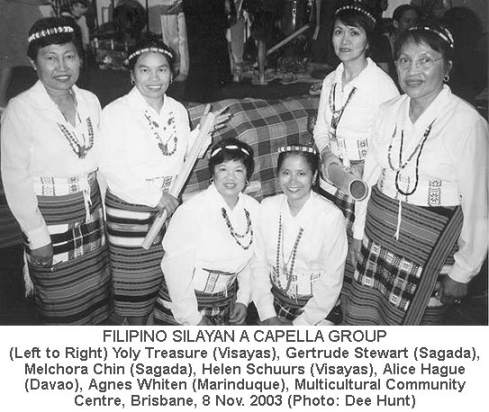 The Filipino Silayan A Cappella group was organized on the 14th of April, 2002 to participate in the Naked Voices II concert at the Brisbane Powerhouse in May that year. The group's aim is to promote Filipino culture through unaccompanied Filipino folk songs, hence A Capella in the name. "Silayan" means "to revisit". Therefore, the name says that the group is revisiting the Filipino folk songs and sharing them with the Australian community.
I am a music teacher from the Philippines with voice (singing) and conducting as my major subjects. I taught at Trinity College, Quezon City from 1973 to 1981 before coming to Australia. Aside from teaching I was a choir conductor at the Cathedral of St. Mary and St. John's choirs (adult choir and boys choir) an Anglican-Episcopal church at Quezon City before I took the position of the choir director of the Cathedral of the Holy Child, a Philippine Independent Church in Manila.
While in Australia I organized and conducted the Filipino Welfare Association's music group, which later became the Maharlika Philippines Group, to participate in the inauguration of Brisbane's Performing Arts Complex in April 1985. Maharlika's aim was to promote Filipino culture through song and dance. During my time with Maharlika, we performed at the Warana Festivals, the Ethnic Folkloric concerts, Shell Folkloric concerts and Expo 88. We were regular performers during Expo 88 and one of the few selected groups to perform at the final concert in the Suncorp Piazza. Maharlika was also twice invited to the Gympie Gold Rush Festivals, and many others. I also conducted the Brisbane Ethnic Music and Arts singing group in 1988.
I had to quit all those conducting activities in 1989 when I was pregnant, but I resumed when The Swiss Yodlers group was looking for a singing teacher in April 1990 which I took until November 1995 when my son started school.
My views about today's pop music is not all positive. I was brought up with classical music. I can't understand rock music. Jazz, folk, country and gospel are easy listening and easy to learn and understand.
Igorot music, particularly the Salidummay, is a very spiritual kind of music. Singing them makes one feel the origin of the music and hear the call of the mountains.
This Filipino Silayan A Cappella Group had been practicing three Salidummays which I notated and arranged into four voices with the help of my then 13 year old son. The group enjoyed learning and performing the Salidummays as well as experiencing the beauty of this so-called very 'ethnic' music.
* Melchora Chin, the singing teacher of the Filipino Silayan A Capella group, is an Igorot from Sagada, a beautiful mountain village nestled in the Cordillera of northern Luzon.
MORE ARTICLES: