KASAMA Vol. 17 No. 4 / October-November-December 2003 / Solidarity Philippines Australia Network
Children in Australian Immigration Detention Centres
Fighting the Risks of the Migration Phenomenon
ChilOut: CHILDREN OUT OF DETENTION is a group of parents and citizens opposed to the mandatory detention of children in Australian immigration detention centres. We are appalled that Australia's treatment of asylum seekers breaches several UN Conventions to which we are a signatory, in particular the UN Convention on the Rights of the Child. We cannot stand by and witness the mistreatment of children carried out in our name and on our behalf. This is an issue of human rights, not politics. Become informed and get involved.
ChilOut's MISSION
1. We are campaigning to get all children, together with their primary carers and accompanying families, out of immigration detention centres (IDCs) and into existing community support structures.
This includes all unaccompanied children in IDCs. Our motivation is humanitarian and non-political.
2. We are opposed to the mandatory detention of asylum seekers and are particularly concerned about conditions under which children are detained, denied access to basic education and opportunities to play and develop.
Physical, emotional and developmental damage caused by continued detention is well documented. Some children are on anti-depressants, others are or have been on hunger strikes. One has sewn his lips together in protest at his treatment. Many suffer from Immigration Detention Stress Syndrome as documented in Lancet, the prestigious British medical journal. Release from detention is our primary aim. Our secondary aim is to make lives in detention more tolerable through outside contact, learning, play and entertainment.
3. We also seek to correct inaccurate media coverage of asylum seekers and counter widespread misinformation.
Pejorative terms - such as 'illegal immigrants' and 'queue jumpers' - are used in the media and help justify harsh Government policies. In our view, once acquainted with the facts of detention Australians of good conscience will react as we do - with indignation, compassion and action.
BE INFORMED GET INVOLVED
Postal Address: Friends of Children in Detention,
PO Box 811, Neutral Bay, NSW 2089 Australia
Email Address: friends@chilout.org
Web Site: http://www.chilout.org/index.html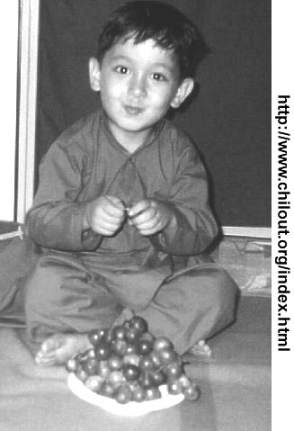 CHILDREN ON NAURU
The four year-old boy in the picture below has been on Nauru since October 2001.
The nine year-old brother of this child writes:
'my brother he is four years old. He is sick. A doctor came from australia. she said I want to operation him. my mother hand is broken. she cant wish the clothes. the doctor doesn't want to safe my mother because you are not accepted. my father has a problem in Afghanistan the people beat him. my father was injured in afghanistan, now my father is under the hand of the doctor, all night my father cant sleep. all day all night. he is just walking under. around the camp. ...everyday they are saying that you should go back. my father is crazy. we can't go back. they will kill my father...what should we do.'
The boys' mother also writes:
'As you asked about my hand. I have hurt in Afghanistan when I was working. I just fell down and broke it. We don't have much facilities in Nauru to be treated well. When we go to the doctor they just ignore us because we haven't been accepted.'
Please note that to protect their identity we do not use this family's name.
How many children are in detention?
Total: 183 children in detention
November 2003