KASAMA Vol. 17 No. 4 / October-November-December 2003 / Solidarity Philippines Australia Network
ANTI-TRAFFICKING IN PERSONS ACT (PHILIPPINES)
Fighting the Risks of the Migration Phenomenon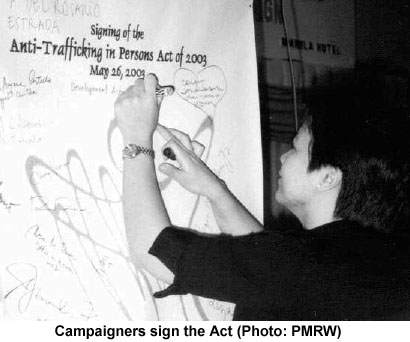 ROLINDA (not her real name) was only 17 years old when she was recruited to work as an entertainer in Japan in 1986. She was promised a high-paying job apart from the glamour of being a performing artist. Coming from a poor family and the eldest in a brood of four, Rolinda immediately grabbed the bait and left the country using a fake passport fixed by her agency. She was supposed to work as a dancer in Osaka but was instead placed in a brothel in Nagoya where she was forced to give sexual services to her customers.
Later on, she was transferred to a club where she was again subjected to more abuse. Apart from doing janitorial chores, she was forced to sit beside her customers and went out on dohan1 with several Japanese men. One of them became her partner who only abandoned her later on. She had abortion twice. On her third pregnancy, Rolinda went back to the Philippines in 1994, already psychologically ill. She was placed in a mental hospital for some time but that did not help her fully recover from the trauma.
Rolinda is just one of the many victims of trafficking in and out of the country. The Commission on Filipinos Overseas (CFO) recorded about 959 cases of human trafficking in the country from 1992 to March 2001. Trafficking's clandestine character makes also difficult for the government to track down the exact figure as regards to its extent and magnitude.
According to the United Nations, about nine million people have been enslaved in the global sex trade by powerful syndicates in human trafficking in 1999.2 And there are still many women and children who had the same fate but opted to suffer in silence because of fear and helplessness.
But now, many trafficked victims are protected by the new law that will punish the recruiters, agencies and customers gaining from this illegal trade.
IMPORTANT PROVISIONS
The "Anti-Trafficking in Persons Act of 2003," otherwise known as Republic Act No. 9208, was signed by President Gloria Macapagal-Arroyo last May 26.
The Philippines is the first country in Southeast Asia to come up with this tough measure against trafficking. This newly-enacted law saves many women and children from falling into the prey of prostitution, pornography, sexual exploitation, forced labor, slavery, involuntary servitude or debt bondage, both domestic and overseas.
Thus, Filipino workers who are often deceived by their recruiters about their real work outside the country are now armed with this piece of legislation that took eight years to pass in both Chambers.
RA 9208 also strengthens the Anti Mail-Order Bride law which only prohibits the matching of Filipino women for marriage to foreign nationals on a mail-order bride basis. Under Section 4b of this new law, introducing or matching any Filipino woman to a foreign national for marriage for the purpose of acquiring, buying, offering, selling, or trading her to engage in prostitution, pornography, sexual exploitation, forced labor, slavery, involuntary servitude or debt bondage is also considered an act of trafficking.
Sanctions and penalties for this offense and other acts of trafficking are stiffer as well, ranging from six years to life imprisonment with a fine of half a million to two million pesos.
Those who buy or engage the services of trafficked persons for prostitution are likewise penalized with six months of community service and a fine of P50,000 for the first offense and an imprisonment of one year and a fine of P100,000 for second and subsequent offenses.
GOVERNMENT INTERVENTION
Development Action for Women Network (DAWN), PMRW member organization, was one of the active supporters for the passage of this measure along with fellow advocates from the National Commission on the Role of Filipino Women and the Coalition Against Trafficking in Women-Asia Pacific (CATW-AP).
DAWN Executive Director and PMRW President Carmelita Nuqui recognizes this newly-enacted law as specially significant and beneficial to young Filipino women like Rolinda, especially those recruited from the provinces, who are oftentimes lured to the job of an "overseas performing artist" only to engage in prostitution in various clubs in Japan.
"Many of them are below the age of eighteen, still considered as children or minors. Their youth and innocence make them even more vulnerable to abuse and harassment in their work places," Nuqui remarked.
RA 9208 mandates the Department of Foreign Affairs (DFA), the Department of Labor and Employment (DOLE), and the Philippine Overseas Employment Administration (POEA) to establish programs for Filipinos who are trafficked overseas and to likewise ensure the safety and preparedness of overseas-bound Filipinos.
As this law covers both national and international migration, other agencies like the Department of Social Welfare and Development (DSWD), Department of Justice (DOJ), Bureau of Immigration (BI), Philippine National Police, Department of Interior and Local Government (DILG), NCRFW, and local government units (LGUs), are likewise mandated to establish programs to prevent, protect, and rehabilitate trafficked victims.
CONTINUING EFFORTS
The advocacy work for the passage of the Anti-Trafficking bill started in the 9th Congress. Through the concerted efforts of NCRFW, CATW AP and other women's groups and partner agencies, the bill finally earned the nod of the 12th Congress.
During the thanksgiving celebration at the Manila Hotel immediately after the signing at Malacañang, NCRFW Chair Aurora Javate de Dios called on fellow women advocates' support in advancing this law for more fruitful rewards as they now draft its implementing rules and regulations.
Described by President Arroyo as a law "that represents a moral decision," RA 9208 is now geared towards protecting the country's potential victims of trafficking, especially the vulnerable women and children, leaving much to be seen and proven in the months and years to come.
NOTES

1. Dohan or afternoon date is a means of enticing more customers to become club regulars in Japan. Women entertainers or what the government calls, the "overseas performing artists," go out with their customers to meet a certain quota which makes them vulnerable to abuse and harassment.

2. Coalition Against Trafficking in Women - Asia Pacific (CATW-AP)
Reprinted from The Migrant Watch, quarterly newsletter of the Philippine Migrants Rights Watch (PMRW), Vol. 2 No. 2, June 2003.
PMRW Secretariat, Scalabrini Migration Center, #4, 13th Street, New Manila, Quezon City, Philippines
Phone: (632) 724 3512
Fax: (632) 721 4296
Email:
migrantwatch@pmrw.org
Website URL:
http://www.pmrw.org