KASAMA Vol. 17 No. 4 / October-November-December 2003 / Solidarity Philippines Australia Network
The First Mob: Scenes From The Front Lines
by Patricio Guevarra - Manila Indymedia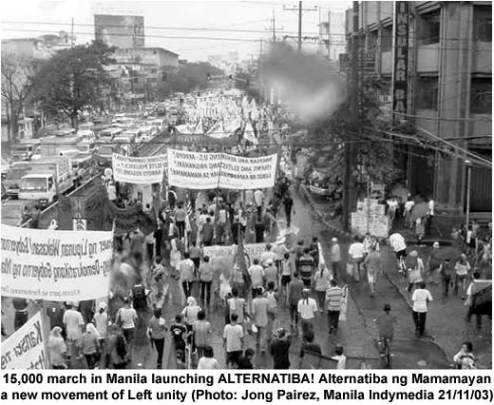 AS MANY as 15,000 militant protesters encompassing the broad progressive coalition called ALTERNATIBA! converged near Malacañang Palace, Manila, on Friday, November 21 in what would be the first of numerous protest rallies that will be staged by the grassroots people's movement as elite factions' squabbling has steadily worsened the political situation leading to economic stalemate and consigned the masses to a life of uncertainty, further reducing them to unwilling spectators in the ruling class' never-ending mudslinging and scam-exposes.
Manila Indymedia was there as early as 12:30pm at Welcome Rotonda, Quezon City, just as different organizations were preparing to march towards Malacañang Palace. A sizable number of people were already there fixing banners, distributing leaflets, and conferring with other local leaders when we got there. Aging revolutionaries and rural folk from the old Partido Komunista ng Pilipinas (PKP-1930) coming all the way from Central Luzon were already there, as were the League of Urban Poor for Action (LUPA), KASAMAKA, Kongreso ng Pagkakaisa ng Maralitang Lungsod, Metro Manila Vendors Association, Zone One Tondo Organization and Ugnayan ng mga Nagsasariling Organisasyon sa Kanayunan, then busloads of farmers belonging to Kilusan para sa Pambansang Demokrasya (KPD) started arriving in numbers. More marchers from the National Federation of Labor, Pambansang Katipunan ng Samahan sa Kanayunan, Philippine Alliance of Human Rights Advocates, Philippine Peasant Institute, Sandigan at Ugnayan ng Magbubukid ng Pilipinas, PEACECAMP, Pambansang Koalisyon ng Maliliit na Magniniyog, Kilusang Mangigisda, continued to pour into the already-congested area.
The police were somewhat stunned when the PKP-1930 unfurled a large red banner with the hammer and sickle logo. Not long after, marchers from different political blocs, trade unions, and organizations arrived in full force like the militant Bukluran ng Manggagawang Pilipino, Partido ng Manggagawa, Akbayan! Citizen's Action Party, Bukluran para sa Ikauunlad ng Sosyalistang Isip at Gawa (BISIG), PADAYON, PANDAYAN, KALAYAAN! and a host of many NGOs that the whole area soon turned into a sea of flags and banners of all shapes and sizes.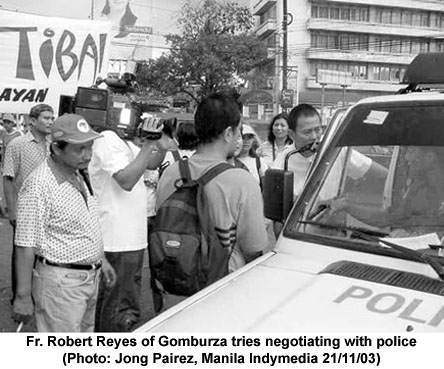 You can't expect thousands of people massed in a single place to go unnoticed by the powers that be and soon enough, Welcome Rotonda was crawling with motorcycle-riding police and SAF (special action force) agents. The violent dispersal of pro-Erap supporters that occurred in Makati a week ago and the very presence of a large gathering of people apparently kept the authorities on edge. A minor commotion ensued when a motorcycle-riding policeman snatched a flag belonging to Akbayan! They tried to talk to police to get their stolen flag back but the police told them that they were keeping the flag because it hit one of their motorcycle-riding patrols passing by. A brief shoving and pushing between the police and Akbayan members occurred. I was watching very close by and I heard one of the police officers say, "c'mon get out before something happens to all of you".
Traffic grounded to a halt as the main body of protestors began to occupy the middle lane and were getting ready to march towards Malacañang Palace. It was almost 2pm. Two police vans blocked their way and a negotiation between protest leaders and police ground commanders got under way. The police officials were giving them no quarter and they were ordered to disperse or face the phalanx of riot police and firetrucks positioned down the road. Fr. Robert Reyes of Gomburza, Rasti Delizo of Sanlakas and Lidy Nakpil of Freedom from Debt Coalition negotiated with authorities to let the march proceed. The stalemate was making the mass of protestors agitated and the police exasperated. They were again told to turn back and disperse peacefully or the riot police would advance.
Suddenly, a phalanx of red-shirted men and women came from behind the main body of the march and rushed towards the frontlines, arms linked together in unison. It was the 'Red blocs', militant workers from the socialist Partido ng Manggagawa. The marchers waved their banners and chanted revolutionary slogans as row upon row of militant workers numbering more than a thousand made their way to the front and promptly positioned themselves in front of the march. The red blocs are a trained composite force of militant workers specifically trained to act as battering rams to break the police barricades. They are the shock troops, the hardcore of militant workers from factories that are used to break into any police line and clash with riot police if necessary. A ground commander from the Red blocs shouted, "body to shield" and the Red blocs locked arms in unison and bent low. Looking grim and determined, the red blocs waited for the command to rush the phalanx of riot police some 30 meters down the road.
From my vantage point between the police and the red blocs, I could see that the riot police had a somewhat worried look on their faces as they were suddenly outnumbered and psychologically disadvantaged at the sight of a battalion of Red blocs waiting for the command to advance towards them, body to armor. Clearly, the police authorities never expected this to happen. The police ground commanders who were grinning from ear to ear a minute ago now had a new problem to worry about: how to control a situation they never expected to encounter earlier. They were outnumbered 6 to 1 and to hold the very thin layer of riot police at this point would be futile. The heavy rains had fallen and I noticed some riot policemen using their shields to cover themselves. The Red blocs and the main body of the march however, soaking wet from the heavy rains and all, stood firm and composed. The war of attrition had now shifted on the side of the red blocs as the police ground commander gave the order to pull back and retreat. The riot policemen with shields and rattan sticks in tow, scampered towards their police trucks and quickly sped away in the opposite direction towards España Avenue.
The composite force of red blocs from Partido ng Manggagawa had done their damage to police morale and the march was allowed to proceed smoothly. The red blocs used to be standard features and were frequently used in past protest rallies of militant socialist trade unions. I remember they used to have their own shields, gas masks and long hammers five years ago and were much bigger in numbers. They used to have a large battering ram with them shaped like a hammer whenever push comes to shove. I guess the continued and intensified repression of the militant mass movement by the authorities warranted the reactivation of these 'shock troops' from factories, especially for the ALTERNATIBA! Launching which, as expected, was blocked by riot police. The traffic from the other side of the road was heavy at this point and rainwater had risen to three inches but nonetheless, the massive body of the protestors trudged on towards Morayta Avenue like a monolith.
The massive protest march finally reached University Belt, an avenue of schools and universities and scene of numerous rallies in the past. Militant students from nearby Far Eastern University were outside the campus waving flags in solidarity with the day's protest action. The marchers then occupied both streets leading to Malacañang Palace as traffic from the area grounded to a halt. The police who had withdrawn from their original position earlier at Welcome Rotonda were now reinforced with more riot police and had set up a steel barricade.
Behind the six layers of riot police were four fire trucks. I reckoned with the heavy rains that had fallen a while ago, what need was there for four fire trucks? What if there was a fire somewhere, and what if they had no water reserves? These questions sounded silly, I thought, as I took a quick glance on the side streets and I saw dozens of Special Action Force (SAF) agents with high-powered firearms standing on opposite sides of the main body of the march. I also noticed they weren't wearing any nameplates. The anonymity of repression, I told myself. I asked one of the police officers why some of them weren't wearing nameplates and he could only mumble incoherently.
The program for the day was held at Morayta Avenue, a short distance from Malacañang Palace. Rally organizers decided the objective of the protest march was already achieved, the positioning in space was met, the projection and the propaganda was made, the rally was allowed to proceed, and the march was not dispersed. The formal launching of ALTERNATIBA! should be peaceful, the organizers said, because there was a message that needed to be delivered on this very first protest rally. That is, that ALTERNATIBA's platform needed to be delivered first before asserting it physically in the coming days. The coming protest actions will be confrontational, they said, since the use of the composite force as a barrier to riot police was effective. We're testing the waters first before organizing another protest action, they said further. I thought it was only prudent to test the tolerance of police authorities first before launching bigger mass actions. The violent dispersal of the October 28 Movement, a gaggle of traditional politicians masquerading as progressive and pro-poor, in Makati was a lesson for the militant movement. It makes no sense to stage a protest action predicated on violence since the message would only be obscured and would only incur the ire of a bigger audience. Better to be prudent than be foolish, I guess. There was only an hour left after the march and the program was yet to begin.
The truck in which the rally organizers were going to speak had positioned on the side of the street which by this time, looked narrow because of the throng that had gathered to listen to the various personalities that would speak. The first speaker was Ana Marie Nemenzo of Freedom from Debt Coalition. She enumerated the economic figures that made the Philippines dead last among Asian neighbors. Privatization of public services and monopoly of private enterprise are the problem, she stressed. Millions of consumers of basic public services like water and energy are in the hands of a select few, and, contrary to belief, services got even worse, profit, above every other, is the main concern and the be-all end-all of private enterprise. The automatic appropriations act should be passed and put into law by Congress to counter heavy IMF policy prescriptions and put debt relief at the forefront of a people's agenda, she stressed further. Wilson Fortaleza of Sanlakas bewailed the government's formation of the 6,000-strong Metrocom-type NCR (National Capital Region) Command, which is not only intended to guard Metro Manila from coup plotters, terrorists and communist insurgents. This is a strike force that would be used to clamp down on all forms of protests, he thundered. Other speakers who took turns in speaking out against the dire politico-economic situation were Sonia Soto of KPD, Michelle Lucudin of Sanlakas Youth, Eman Hizon of BISIG, the spokesperson of the PKP-1930, and also speakers from Akbayan!, LUPA, and Youth for Nationalism and Democracy. The comic relief came from the leader of the Radical Youth League as his political satire-like speech was filled with colorful language and never-ending allusions to 'anarchists, socialists and communists' banding together and making the day a success for the resistance movement, complete with hand gestures and emphatic stage presence. I've heard this young leader speak before some years ago and I must say his brand of speaking has certainly improved with every protest rally.
I was inside a cramped Jeepney full of leaflets and banners as I wrote this and I didn't realize that it was almost 5pm and the program was about to end. The workers' very own, Teatro Pabrika, sang a rendition of the revolutionary song, 'Ang Masa' to formally end the program. The formal launching of ALTERNATIBA! was a resounding success although I was kind of hoping to take a sneak peek inside Malacañang Palace if ever things got confrontational but that will be for another day, I guess. The search for a broader audience had been achieved and if there's one thing I learned today, it's that the workers along with marginalized people united can never be defeated, clichéd, but true.
MANILA INDEPENDENT MEDIA CENTER COLLECTIVE:
is an autonomous group of grassroots media activists committed to using media production and distribution as a tool for promoting social, environmental and economic justice in the Philippines. The article above is an edited version of the original posted on the Manila Indymedia web site at
http://manila.perthimc.asn.au/
. There are lots more photographs by JONG PAIREZ of the march as well as photos and another report by PATRICIO GUEVARRA on the ALTERNATIBA! People's Summit which took place during the two days prior to the launch.