KASAMA Vol. 17 No. 2 / April-May-June 2003 / Solidarity Philippines Australia Network
THE JOURNEY OF HEALING
SORRY DAY 2003
Doris Pilkington Garimara spoke about her meeting with Ainu elders and their common experiences under the assimilation policies of Japan and Australia. the following are extracts from her keynote speech at Sydney Opera House on 26th May 2003
AS I REFLECT on the past 12 months I realize just how privileged and honoured I am to be involved in promoting the film Rabbit Proof Fence which was adapted from my book, Follow the Rabbit Proof Fence.

My most recent tour took place in Hokkaido, a small island north of Tokyo, Japan and this came about at an invitation by the Ainu people, the Indigenous or Aboriginal people of Japan.

The 2-hour trip to the town of Nugatani, a cultural centre of Ainu people, was certainly one of the most unforgettable sights I had ever seen. It was a bitterly cold November morning and I was spellbound by the beauty and purity of the snow that blanketed the land, it was unimaginably exciting.

I learned how the Ainu warriors fought and lost their battles and suffered the consequence of defeat at the hands of the Japanese. This was devastating and destructive to the Ainu people as they fell completely under the control of the imperial government of Japan. They had no power to resist so they remained oppressed and exploited by their captors and, like the Aboriginal in Australia, they were forced to learn the customs and language of their colonisers and were banned from speaking their language or practising their traditional culture and customs.

Many Ainu people tried to escape from the labour camps and often took drastic measures in their attempts. For example, Elder Kayano's grandfather chopped off one of his fingers in the hope that he would be sent home, but no such luck. He was given treatment and sent back to work. He had to be more subtle and he was. By fishing for blow fish everyday to extract the poison, until he collected enough to rub over his face and hands. So when the guards saw the awful looking rash, the Japanese panicked thinking it was a contagious disease, they sent him home to die. The lad went home until he died peacefully from natural causes, in his bed, at the age of 80.

So it must be remembered that it was not a foreign power and not an imperial government who committed the cruel acts against the Indigenous people. This is also true of Australia to its biggest shame, our own Commonwealth Government of Australia through unjust laws legitimately removed Aboriginal children from their traditional homes and their families placing them in cold and impersonal institutions far away from the warmth of loving families and comfortable surroundings.

More at http://www.abc.net.au/message/radio/awaye/

Sorry Day : Brisbane : 25th May 2003
National Sorry Day commemorates the Stolen Generations of Aboriginal and Torres Strait Islander children forcibly removed from their families. Indigenous communities and their supporters throughout Australia come together on National Sorry Day to create awareness and express our sorrow for this terrible crime. This is one way by which we try to heal the pains of the past, celebrate survival and walk together in hope for the future.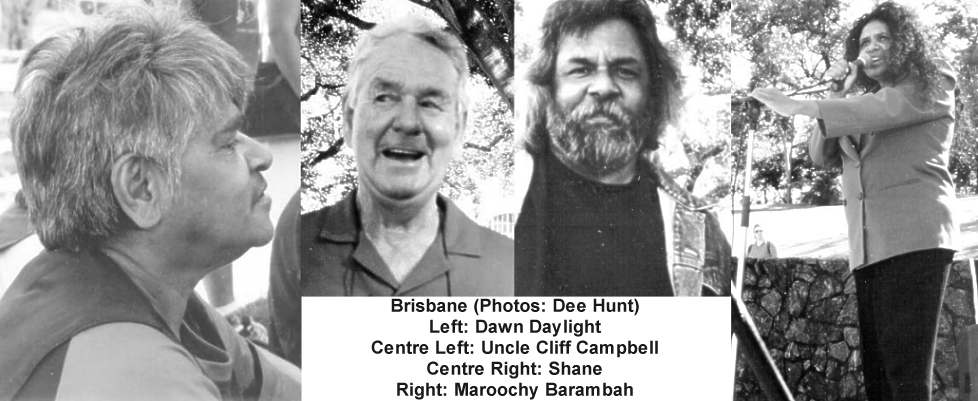 From My Mother's Womb
I have journeyed to this point in my life
not able to share my mother's thoughts,
not knowing the journeys of her ancestors,
not knowing what may influence the way she thinks,
not knowing the pains that are in her life,
not knowing the simple joys of her life.
At this point in my life, I have found
I only share in common with my mother, a womb,
she shared and nurtured all us siblings in.
From my mother's womb we siblings share
the bonds of her people and
we share the affinity to the land.
We also share the parting grief of separation,
of what we imagine were times of happiness and pain,
the distant thoughts of what our life may have been.
This is sharing from my mother's womb.

- Tjanndamarra
The reproduction of the painting "From My Mother's Womb" and the words of its meaning are reproduced here with the kind permission of the artist.