KASAMA Vol. 17 No. 2 / April-May-June 2003 / Solidarity Philippines Australia Network
Legal Information for Women Project:
Diversity Counts
5 JUNE 2003: LEGAL AID QUEENSLAND LAUNCHED RESOURCES IN TAGALOG AND ENGLISH TO ASSIST FILIPINO WOMEN ACCESS LEGAL INFORMATION. GUESTS IN MACKAY AND MT ISA JOINED IN VIA TELECONFERENCE. ASSOCIATE PROFESSOR JULIE STUBBS WAS THE GUEST SPEAKER.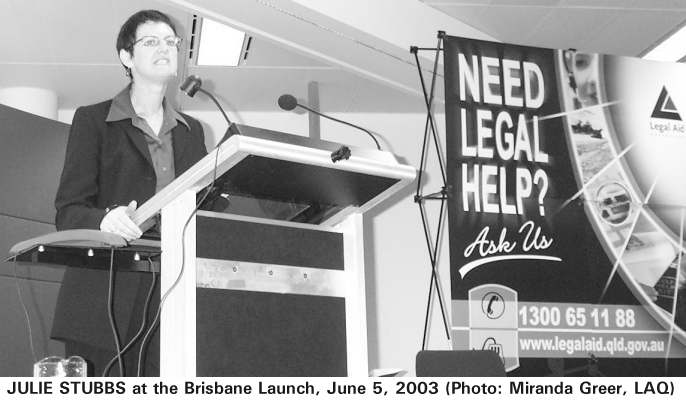 IN 1996 my colleague Chris Cunneen and I were invited by HREOC to undertake research concerning violence against Filipino women in Australia.[1] That research had been specifically sought by Filipino organisations including the Centre for Philippine Concerns-Australia who lobbied very effectively on behalf of Filipinos throughout Australia. With the assistance of the Filipino community, we documented all known deaths or disappearances of Filipino women and their children throughout Australia over the period 1980 to 1995.
The 27 cases we identified are likely to underestimate the total number of deaths of Filipino women since official data sources concerning the country of birth, race or ethnicity of the victims of homicide are limited and incomplete.[2] However, we found that Filipino women in Australia were almost six times over-represented as victims of homicide in Australia. Unlike other immigrant communities the homicide rate for Filipino women was higher than that for Filipino men.
There was evidence of previous domestic violence by the offender to the woman victim in the majority of cases. In many case studies it was clear that the perpetrator also had been violent to other women prior to their relationship with the Filipino woman discussed here. In two cases there was evidence that the man's previous wife had sought legal protection due to his domestic violence. In another case, the man convicted of murder had also faced previous allegations of the attempted rape of two girls aged 13 and 14 years. In a further two case studies, the same suspect emerged in the deaths of two Filipino women. This suspect also had a de facto relationship with a third non-Filipino woman who had disappeared. His two children also alleged that he abused them. In two further cases, men in the study had previously been married to non-Filipino women who had died or disappeared in suspicious circumstances.
The results of this research should not be construed as casting all relationships between Filipino women and men from developed countries as exploitative. Nor do I wish to depict Filipino women as hapless victims. Indeed, Filipino women within Australia, as in the Philippines, have been active and effective political actors. To recognise the factors which make Filipino women vulnerable to violence is not to deny their agency in resisting that violence, and in seeking to redress it.
Domestic violence is primarily an expression of power and control by men over women. The imbalance in power between men and women is likely to be even greater where an Australian man, familiar with cultural norms and practices, rights and entitlements in that country, sponsors a woman from another country.
While Filipino women in Australia share many of the experiences of other immigrant women, such as settlement problems, isolation, high unemployment and the under-valuing of their skills, as well as a lack of knowledge about and access to legal rights and social services, there are particular features that operate to make them especially vulnerable. Their experiences and needs are distinctive.[3] Their vulnerability arises both from those factors which provide the context for, and the impetus towards their emigration from the Philippines, and the stereotyped misrepresentation of Filipino women, and of Asian women more generally, as compliant, ultra-feminine and servile. Concerns have also been raised about domestic violence against other immigrant groups such as Thai, Indonesian, Fijian and Malaysian women in Australia[4].
[W]e found that international political economy, third world debt, development policies and Philippine government policy all contributed to the vulnerability of Filipino women migrating to Australia. The remittances sent home to the Philippines by Filipinos living abroad are the largest foreign exchange earner for the country, and as such emigration is actively promoted and procedures for remittances are facilitated by that government... Many Filipinos see emigration for work or marriage as a positive choice.
Australian immigration policy also contributes. While it appears to be gender neutral, our immigration policy makes it difficult for women to qualify for entry under skills requirements. As a consequence many women come to Australia as the partner of a man who is a resident, or otherwise qualifies for immigration. The women do not qualify in their own right and thus are dependent on their partner.
A large number of Filipino women come to Australia as the wives or fiancés of Australian resident men and their immigration status is tied to those relationships. Special provisions have now been made to assist women to gain residency where their relationships have broken down due to domestic violence, but not all women are eligible.
Poor access to legal information and the absence of culturally appropriate legal and other services within Australia have also contributed to the vulnerability of Filipino women. Many Filipino women live in rural and regional Australia in communities that are not well resourced. Some women must rely on their partners for information about their legal rights and entitlements in Australia, information that can be inaccurate and in the case of abusive men sometimes entirely misleading and self serving. Failings in the coordination of responses across legal categories, for instance in the areas of immigration law, family law and criminal law have also contributed to this vulnerability. Like many immigrant women, they are also likely to suffer material disadvantage and to lack independent economic and other resources outside the abusive relations.
At the symbolic level representations of Filipino women and other Asian women in the media, on the internet and in other cultural realms also have had a role to play. Racialised and sexualised images that portray such women as exotic and compliant are profoundly damaging. Such images are consistent with particular forms of masculine fantasy and desire for a submissive partner and on occasions these fantasies are played out by men sponsoring Filipino women as partners.[5]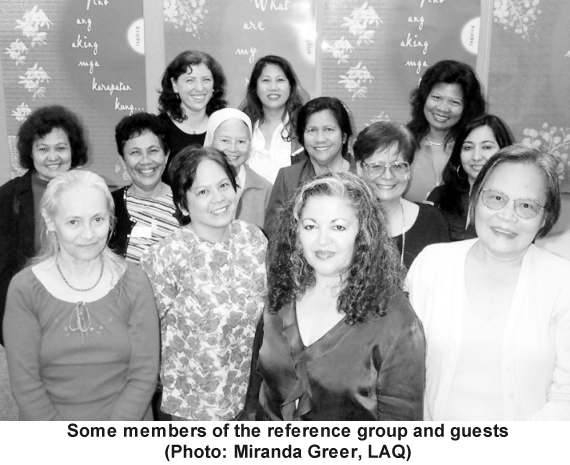 Having laid that background, I would now like to shift specifically to our reason for being here today. The resources being launched today represent a very significant initiative aimed at making a tangible difference in the lives of Filipino women throughout Queensland, women for whom access to justice has been illusory or sorely constrained. The resources will also be translated into other community languages and disseminated broadly to women across this state, and thus offer benefits to Queensland women generally. The need for such resources was clearly identified by the report of the Rural Women's Legal Awareness Project, undertaken in 2001.
The project was initiated as a result of collaboration between Women's Legal Aid and the Women's Justice Network and funded by the Legal Aid Queensland Board. One objective of the project was to improve access to legal services for Filipino women living in rural and remote Queensland. Filipino women are one of the largest groups of non-English speaking background women living in Queensland. Most are spouses or fiancés of Australian men and significant numbers live in rural and regional areas, including mining towns[6].
Consistent with other studies, the project found that Filipino women often did not seek help from mainstream agencies, due to a lack of information about services available, the absence of culturally appropriate services and cultural values that prefer seeking support from within their own community. This has highlighted the need for strategies to develop linkages between legal aid, multicultural workers and community agencies and for broad based approaches to the dissemination of legal information.
Before I move to formally launch the resources I wish to acknowledge once again all of those people and organisations who have been involved in the project with particular thanks to Women's Legal Aid and the Filipino women who participated in the consultations.
I would like to congratulate the LAQ and all of those associated with this project for recognising that access to justice for women who experience violence in our community is an urgent concern and for undertaking steps to render the promise of justice more meaningful to women who for too long have had little or no capacity to benefit from the protection the law is meant to offer on an equal basis to all of us. I commend the resources to you and declare them officially launched.
Endnotes:

1. This presentation draws heavily on work undertaken together with Chris Cunneen.
2. Cunneen C & Stubbs J (1997). Gender, Race and International Relations: Violence against Filipino Women in Australia, Sydney: Institute of Criminology at 29-31.
3. Women's Legal Resources Centre, (1994). Quarter Way to Equal, Sydney, Women's Legal Resources Centre, pp. 24-26.
4. Migrant Women's Emergency Support Service and the Domestic Violence Resource Centre, (1994), submission on file with the author.
5. Cunneen C & Stubbs J (2000). 'Male violence, male fantasy and the commodification of women through the internet' 7 (1/2/3), International Review of Victimology, pp. 5-28.
6. Report of the Rural Women's Legal Awareness Project, 2001, p. 15.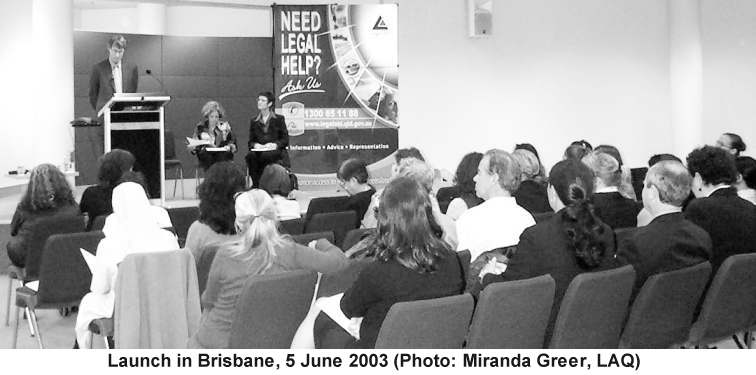 JULIE STUBBS is an Associate Professor and the Director of the Institute of Criminology, Faculty of Law, University of Sydney. Julie's research interests are primarily related to violence against women, domestic violence law reforms, defences to homicide and the battered woman syndrome.
Legal Aid Queensland
Institute of Criminology, University of Sydney
The Centre for Philippine Concerns-Australia continues to monitor the incidence of violence against Filipino women and children in Australia.
Current documented statistics of Violent Deaths and Disappearances of Filipino Women and Children in Australia since 1980 can be found here.