KASAMA Vol. 17 No. 1 / January-February-March 2003 / Solidarity Philippines Australia Network
Stolen wages activist accepts Government reparations offer
31 March 2003 -- Aboriginal activist Gloria Beckett, who spent her 60th birthday last Saturday in a hospital built from funds she's fought to retrieve for her people, has said she will accept the Queensland Government's offer of $4,000 reparations for her stolen wages.
Speaking from her bed in Redcliffe Hospital, much of which was built during the 1960s after £100,000 [pounds] was borrowed from Aboriginal accounts held in trust by the government, Ms Beckett said she has less than 12 months to live.
"I have cancer," she said. "And I made this decision when I knew there was no cure for this, when I knew I was going to die. It was very very tough for me because my heart is telling me that my fight is still there for a better deal for our people."
After growing up in the Cherbourg dormitories, Ms Beckett was forced to work from when she was 16-years-old for wages which were withheld by the Government "in trust" for her - the Redcliffe Hospital Board took out the loan in 1962.
At that time Ms Beckett said she was working as a domestic on a station at Taroom in western Queensland. "That's the irony of it all. I was taken away, put to work. I spent most of my life fighting for that money and I did all that to end up in the same hospital I helped to pay for," she said.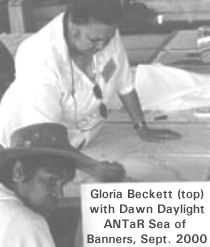 The hospital agreed to pay the loan back to government by 1982 but despite the long fight for what is known as the stolen wages, neither Ms Beckett nor any of her people have ever seen or benefited from that money - until now. "My family, my two kids can't afford to pay for funerals or the care I need so I have to accept the offer," she said.
"They've given me up to 12 months to live, I have a death sentence and that was the thing that made me decide. To put it bluntly I don't have the extra time to go and fight it in court but my heart is there and if I had that time I would be there fighting. It's not only me, how many hundreds of Murri people are either so sick or so broke and going through the same thing? They can't even afford to bury themselves."
Ms Beckett, who told her story to media in May last year after Premier Peter Beattie put his "take it or leave it" offer on the table, has been at the forefront of her peoples' battle for the money. "I've had people calling me and thanking me for fighting this," she said.
"I probably have a lot to say to the government but I don't want to be vindictive, I just want to die in peace. It would make me a lot happier if my people got a better deal but I've got no fight in me anymore which is only because of the cancer. If I was able to stand up on my feet I'd still be out there fighting."


© 2003 Christine Howes
Reprinted with permission of the author.