KASAMA Vol. 16 No. 4 / October-November-December 2002 / Solidarity Philippines Australia Network
Welcome To Country
by Deborah Ruiz Wall
ONCE AGAIN, Sydney has experienced another massive bushfire this year - a grim reminder for me of what happened to us last year.
Just over a year ago, Kempsey, New South Wales also had a massive bushfire at the tail end of spring. We, students of Tranby Aboriginal Cooperative College based in Glebe, Sydney were having our end-of-course camp activity. Being the first non-Aboriginal students accepted as a group at Tranby and having a course exclusively taught by Aboriginal mentors in traditional and non-traditional ways made us feel rather special.
But on October 31, 2001, our campsite was gutted by bushfire. Practically all our belongings perished in the fire. When we returned to the campsite in our attempt to salvage something, we found ourselves trapped. We kept moving onto higher ground until there no longer was any route free of fire which our vans could take back to the highway. Eventually we found refuge in the local elder's house which was at the foot of a blazing hill (see pictures). Though exhausted, we could hardly sleep, aware that everything around us was aflame.
Around midnight, State Emergency Services was able to get through the road and we were evacuated to the local hospital as some women in our group needed medication. We instantly became local 'refugees' receiving aid, given clothes - socks, undergarments, etc. Later we were billeted at Kempsey's Railway Hotel. We appreciated very much the help Kempsey's township gave us during our ordeal.
It seemed to me that nature was teaching us, Aboriginal and non-Aboriginal alike - something beyond our expectation. The mystery of this experience is reflected in my poem.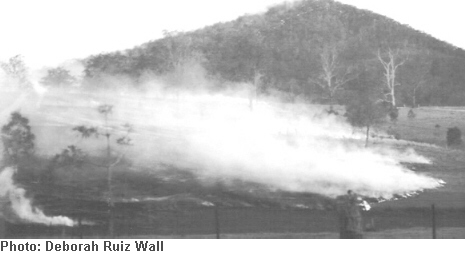 Welcome to Country


Stardust in my eyes…my weary eyes
feasting on the moon,
peering across the haze,
observing the mountain alight with fire,
hearing the crackling flames devour
the green and brown terrain.
Eerie moments when time stopped
between day and night,
life and death scrawled
upon the firmament.
Our fate seemingly hangs on the balance
as we, the captive audience
helplessly watch
the death defying spectacle.
O dancing flames snaking up
the summit in bright orange and red,
smothering desire and thirst
for cultural knowledge
that cannot be bought!
Watch Wisdom pass by
taunting, teaching, encircling
the dwelling used as the women's refuge,
strangers haunted and mesmerised
by nature's baptism of fire
that encapsulates all other elements
- earth, water, and air
displaying their natural power,
ruling exactly when time is ripe,
forbidding trespass
and 'rite of passage'
that is not yet earned.
Deborah Ruiz Wall
16 November 2001