KASAMA Vol. 16 No. 4 / October-November-December 2002 / Solidarity Philippines Australia Network
"As activists, we have a duty to imagine a world without sexual exploitation, as we have learned to imagine a world without slavery, apartheid and oppression."
5th October: International Day of No Prostitution
Press Statement - October 5, 2002
Coalition Against Trafficking in Women-Asia Pacific
In the Philippines, prostituted women are criminalized yet the abusers in the system remain free from accountability. Those who profit and gain from the industry include the recruiters, pimps, establishment owners, promoters, and the buyers/customers.
The state has long reneged on its responsibility to protect the human rights of women, being complacent in the existence of prostitution as a catch-basin for those unemployed.
The government continues to be cynical to violence in the homes, without laws to criminalize domestic abuse, even as sexual abuse in particular pushes more women to prostitution. Worse, the state has profited from the system as local governments continue to license and gain from taxes paid by prostitution establishments and extract from the prostituted women. Further, as less companies comply to the Minimum Wage Law and the unemployment crisis is not met squarely, the women's options continue to narrow.
Globalist policies, too, have aggravated the trade and commodification of women's bodies across countries and domestically. Finally, the state's embracing US troops contributed to the exposure of the women to further prostitution.
It is high time that the state - law enforcers, in particular - should be held accountable for abusing the women further. Policies condoning and contributing to the sexual exploitation of women have to be opposed.
Together with women still in prostitution and those who survive it, we call on the public to shift the blame from the women victimized to those who gain from prostitution. Policies need to be changed towards de criminalizing the prostituted women. Instead, the state should criminalize the perpetrators of sexual exploitation.
Thus, the Anti-Vagrancy Act should be repealed immediately. Alternative sources of income, education and opportunities for economic empowerment should be made available to women. Support services for education, health and housing of the women should be provided.
The Coalition Against Trafficking in Women - Asia Pacific also calls on men to stop buying or selling anyone for sex, and for them to create ways and organize to stop prostitution and sexual exploitation of women. On the International Day of No Prostitution, for at least a day, let us direct our resources to survivors' groups and save the women from one day of sexual exploitation.
Activities in Manila
Press Conference with speakers on the Anti-Vagrancy Act and Anti-Prostitution Act from Bukluran ng Kababaihan sa Lansangan, Buklod - Olongapo City, and Saligan
Educational Discussions on Prostitution at the offices of Makalaya and BUKAL
March around Quezon Memorial Circle to mark IDNP
Philippine Vagrancy Law Hurting Women

By Michael Punongbayan, TODAY Correspondent
ABS-CBN NEWS - Sunday, October 6, 2002
Some 300 women's rights advocates staged a protest rally at the Quezon City Memorial Circle Saturday afternoon, urging the government to repeal laws that tend to do more harm than good to women who have become victims of prostitution in the country. Declaring October 5 the "International Day of No Prostitution," the Coalition Against Trafficking in Women-Asia Pacific said it is high time the government and the public understood prostitution as a system harming women.
In a press briefing held earlier, the group condemned the cynicism of the government to the violence of prostitution, saying present laws either harm the women further or tolerate the practice of prostitution establishments and local governments earning from the system.
Rakel Ignacio of the Bukluran ng mga Kababaihan sa Lansangan said the vagrancy law should be abolished because it does not do anything to help women imprisoned by prostitution. Citing studies, Ignacio said arrests made by the police using the law result in more abuses against women such as maltreatment and extortion by police officers also known as "kotong cops". The vagrancy law, she explained, treats women as criminals. They are the ones penalized instead of those who employed them or pushed them into prostitution. "The law penalizes women in prostitution while pimps and patrons and owners of prostitution establishments remain free from any liability," she said.
Ignacio noted that in the area of Cubao and Quezon Avenue in Quezon City alone, about 200 streetwalkers are being subjected to at least five arrests every week. Under the vagrancy law, she said these women - at least nine are arrested every single raid - are fined at least P210 so that they could be released from jail. If the total fines are computed, the government or wherever the money goes would earn some P132,000 in legal fines without really solving the problem of prostitution in Quezon City.
This, Ignacio said, doesn't even include the illegally collected fines of "kotong cops," which if computed can reach some P96,000 a year. The vagrancy law and the ways it is being enforced, she said, promotes poverty and low self-esteem among victims of prostitution instead of building self-worth and helping women.
The police, Ignacio said, don't even give importance to the rights of those they tag as prostitutes, or "pokpok", abusing them and also giving no importance to the crimes done against them. Ignacio said they documented two killing incidents involving suspected prostitutes back in 1999, where one was killed in the streets and the other mauled and strangled to death inside a motel. Police reports from police blotters had allegedly read: "Unidentified woman killed by still unidentified suspect."
Lawyer Aimee Mendoza of Saligan said the second law which should be abolished is the white slavery law, another law that they said has been proven ineffective. It discriminates against prostituted women and fails to get those behind prostitution dens.
Coalition Against Trafficking in Women-Australia

In Melbourne:
We held an International Day of No Prostitution conference here in Melbourne on Saturday 5 October. Our main speaker, Linda Watson from Linda's House of Hope in Perth, the only survivors' refuge in Australia, was in hospital and unable to come. She is the only survivor speaking out here and tremendously overworked.
However we had a terrific day. We started with intro to CATW Australia by Renate Klein, the international CATW video So Deep a Violence, then Mary Sullivan on the Failure of Legalised Brothel Prostitution in Victoria, then Dee Hunt of Centre for Philippine Concerns on Online sex tourism and the 'so-called' mail order bride experience. Then Jen Rice on The Porn Industry's Ten Year Plan, absolutely harrowing stuff including how the pornographised woman Houston had a labiaplasty operation filmed as porn and then her labia were sold off at auction. It was a tremendous rousing talk such as we have not tended to have in recent years, in Australia anyway.
Then we had workshops on porn, activism, and supporting women to leave prostitution. Then I spoke on Envisioning a World Beyond Prostitution. We had just over 50 women, not bad for this terrible liberal and pro prostitution climate.
There was a great feeling and it was so good to have a day full of radicalism with no opposition and that feeling of revolution in the air. We got onto the ABC radio news in the evening and that was the only media apart from community radio which is always good to us.
-Sheila Jeffreys
Legalising Prostitution is Not the Answer:
the Example of Victoria, Australia

Opposition to men's prostitution abuse, and challenging the social acceptance of the prostitution industry, is aided in many countries by the existence of a prostitution survivors' movement that speaks out about what prostitution really means for women. It was the speaking out of survivors that empowered the feminist challenges to other forms of violence: domestic violence, rape, child sexual abuse. In a country like Australia, and a state like Victoria, where prostitution abuse has been so normalised, it is particularly hard for survivors to speak out against it.
... As the prostitution survivors' movement develops, it will be easier to change the climate of acceptance that has allowed the industry to flourish in Victoria and elsewhere, and gain an effective solution to the problems of prostitution outlined here.
... Ultimately the best way forward in Victoria would be to follow the example of Sweden where model legislation in 1998 penalises the men who "buy sexual services" and decriminalises the women. In combination with generous services to support prostituted women in getting out, this would be effective. Unfortunately it will take some time to create a social understanding of prostitution in Victoria that will make this possible. Countries that have not yet gone down the path of legalisation are in a position to develop policies to end the harms of prostitution. Legalisation compounds the harms of prostitution rather than relieving them. It is not the answer.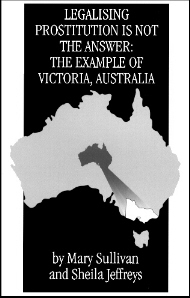 Extract from:
Legalising Prostitution is Not the Answer by Mary Sullivan and Sheila Jeffreys.
You can purchase a copy from
CATW-Australia,
P.O. Box 1273,
North Fitzroy VIC 3068
Australia
or download the text at
http://action.web.ca/home/catw/attach/AUSTRALIAlegislation20001.pdf