KASAMA Vol. 16 No. 4 / October-November-December 2002 / Solidarity Philippines Australia Network
Santiago Bose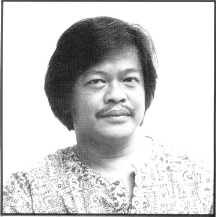 SANTIAGO BOSE was born in 1949 in Baguio City, Philippines. A tireless experimenter in medium, he was a pioneer in the use of indigenous materials. None of his work is done in traditional oil on canvas; instead he blurs the distinction between two- and three-dimensional art. He has used found objects, such as bamboo nose flutes, driftwood, holy pictures, paper bills and empty bottles in assemblages. He not only discovers media, he invents them as in his use of volcanic ash treated for a hard sculptural effect. His artistic inventiveness has gone hand-in-hand with strong communal concerns. Most of his works touch on the struggles of the Cordillera folk, such as the one on the subject of a projected dam which would submerge entire ancestral lands… Santiago Bose's committed art has a political dimension, upholding indigenous values and national identity over and against external interests.
Photo and extract from the biographical entry by Professor Alice Guillermo (College of Arts and Letters, University of the Philippines) in Queensland Art Gallery catalogue of the First Asia-Pacific Triennial of Contemporary Art, Brisbane, Australia, 1993.
Santiago died at the St. Louis University hospital in Baguio City on Wednesday, 3rd December 2002. Eight doctors reportedly tried to save him, but he had a heart attack in the process and was said to likely stay comatose and brain-damaged. They gave up. Santi went on ahead of us, at about 3:00pm. [T'bak group email 6/12/02]
A SAVAGE LOOK AT INDIGENOUS ART:
Notes in Transit by Santiago Bose
THE TERM "Philippine indigenous art" was used by art critics as a convenient name to describe contemporary art practice that is made outside Manila, where artists use local materials and merge contemporary forms with traditional modes. The mere fact that I'm writing about it makes me an accomplice to this naming. Labeling restricts mixing and reduces critical engagement. It also encourages misrepresentation of tribes who are appropriated from. Appropriation by non-tribal groups is not mixing. A deeper understanding of indigenous peoples' history reveals a wealth of knowledge. "Primitive" cultures have an understanding of art in our sense of the word. The rice terraces in the Philippines were built 2,000 years ago by tribal communities without slave labour. It was an earth sculpture made collectively. Their lives, rituals, politics and economics were centered on the sculpture. Pre-hispanic Filipinos integrated art into their daily lives.
Since the voyage of Magellan, colonizers have imposed their world view and miseducated the Filipinos into believing that foreign cultures were better than their own. An investigation of our history unveils rich cultures within, misunderstood by colonizers and the population at large. Folk religion, mythology, folk theatre, rituals and fiestas were the cultural wealth of the people. These were dismissed as craft, as spiritual mumbo-jumbo, by western taste moulders and bearers of "high art."
…The artist cannot but be affected by his society. It is hard to ignore the pressing needs of the nation while making art that serves the nation's elite… We struggled to change society, which is difficult and dangerous, and we also sought to preserve communal aspects of life. I too am haunted by visions of hardship, poverty, disenfranchisement of the "primitive" tribes, but between outbursts of violence and exploitation are also tenderness, selflessness and a sense of community. These will always remain unspoken and unrecognized unless we make art or music that will help to transform society. The artist takes a stand through the practice of creating art. The artist articulates the Filipino subconscious so that we may be able to show a true picture of ourselves and our world.
…The training of artists in Western modes propagates the use of materials and tools that are expensive and rare. But the contemporary Filipino artist is liberated from paying the West every time he creates. The idea of art as "property" or commodity is challenged, its prominence questioned. The idea of artist as individual creator is also challenged, and a sense of community opens up new possibilities… This makes his art relevant to a broad spectrum of society, making it clear whose interest it serves.
…The increasing popularity of non-traditional works such as public murals, newsletters, installation, collaborations, performances, and the existence of groups and spaces willing to underwrite these events is swaying "ART" from the exclusive control of collectors, galleries and multinational patronage. Documentation is indispensable in making these works accessible to the public. The rise of postcolonial sentiments and postmodernism is fast eroding the myth of Western art and values.
Extract of Notes in Transit reprinted from Memories of Overdevelopment (1998) edited by Wayne Baerwaldt
You can read more of Santiago Bose's essays and view some of his art works on his web page at http://www.santiagobose.com/ and also at http://hammer.prohosting.com/~sbose/