KASAMA Vol. 16 No. 2 / April-May-June 2002 / Solidarity Philippines Australia Network
Center for Victims of Child Trafficking Inaugurated
By Jowel F. Canuday / MindaNews / 28 April 2002
DAVAO CITY
A monitoring and emergency center on child trafficking set up by child rights advocates and the Philippine Ports Authority (PPA) was inaugurated here yesterday inside the compound of the Davao International Seaport in Sasa in a bid to intercept the trafficking of children and women. The halfway house, dubbed "Balay Silungan sa Daungan" (Home Shelter at the Port) will provide 24-hour "safety and catchment" services for victims of trafficking intercepted by child rights advocates and government personnel.
The center, jointly established by the NGO, Visayan Forum Foundation (VF) and the PPA, will also provide victims of child trafficking a temporary shelter, referrals in pursuing legal actions against their recruiters and telephone hotline counseling. VF-Mindanao regional coordinator, Luzviminda Panes, said the center will also provide mechanisms to protect children who travel alone or are stranded at the seaport.
Panes said VF set up a similar center inside the compound of the Manila South Harbor last year amid reports that many of the traffickers …pass through the port en route to the sweatshops and brothels in Metro Manila. …VF considers both the Davao and Manila ports as major gateways of recruiters and pimps who entice girls and young women into working as domestic helpers or workers in sweatshops mostly in Manila. Panes said that since the seaport is the gateway of child traffickers, it is also a critical place where they can easily monitor and intercept the trafficker and their victims.
She said victims of trafficking can be tracked down and easily spotted in seaports because they usually board the ship in groups of about three to around 10 persons and stick together, apparently on strict instructions from their recruiters. She said victims, most of them under 18, claim they are 18 years old when asked about their ages. Panes said illegally recruited children are often accompanied by a single adult.
She said a study conducted by the VF among 70 victims of trafficking intercepted by the government authorities at the Sasa wharf showed most of them came from the rural towns of North Cotabato, Davao Oriental, Davao del Norte, Davao del Sur, Compostela Valley, Butuan City and Davao City.
This article was downloaded from http://www.mindanews.com
Minda News: A Weekly Publication of the Mindanao News and Information Cooperative Center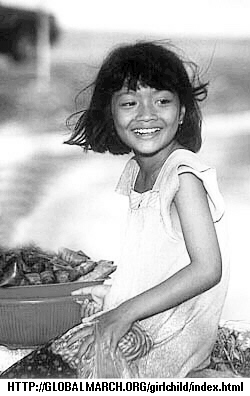 Child Domestic Work, Trafficking and Exploitation
The following is an extract from the VISAYAN FORUM FOUNDATION submission to the United Nations Commission on Human Rights, Sub-Commission on the Promotion and Protection of Human Rights, Working Group on Contemporary Forms of Slavery, 27th Session.
Geneva, 27-31 May 2002
Thank you for the opportunity to share with you the position of Visayan Forum Foundation, an NGO from the Philippines which has been working with child domestic workers for the past 10 years. In particular, I would also like to focus on the unexplored connection between this issue and that of trafficking and sexual exploitation.
First a question: among other things, what helps keep the Asian family alive despite the increasing pressures of economic globalization? It is the everyday army of maids, cooks, and babysitters who remain out of sight and out of mind while they free working mothers and care for children in exchange for low salaries that they remit back to their poor families in rural areas. They are the hidden workforce multipliers that make the formal labor force more productive. In the Philippines, for example, we estimate that if this one million strong sector were to remit at least half their average salary of US$16 a month, they would be silently infusing some US$8 million a month or US$96 million a year to their cash-stripped families in the provinces.
Societies therefore still desire and necessitate the existence of domestic workers. The practice is still so deeply rooted that many working people prefer to hire someone else to do housework under an employer-employee arrangement, and possibly an even younger person as an extension of the family.
But few child domestic workers truly become part of the family, as many are still considered indentured servants. And if they were hired as workers, they are still treated as slaves - always on call and paid only enough to cover their subsistence, and wear and tear. This is far from the very definition of decent work. This is obviously not right. …Young domestic workers should be given the same attention that has been accorded to migrant overseas workers and other organized laborers.
In the Philippines alone, there are around one million domestic workers - mostly children, some as young as nine years old. This is too large a sector to ignore; yet it remains invisible and neglected. Let me broadly outline very important characteristics of the child domestic work issue in the Philippine context, which has many similarities to other Asian countries:
They are mostly girls working away from home and are vulnerable to verbal, physical and sexual abuse. …Many child domestic workers work for long, indefinite hours in isolation and often at night. …Unfortunately, many domestic workers themselves do not know their rights. And if they do, many think twice before exercising these rights out of fear of angering their employers…;

While not all employers are bad, the treatment of child domestic workers is arbitrary and is not governed by any socially accepted minimum set of standards. There are no formal contracts to speak of in the first place because many agree to work through informal recruitment channels. With their universal right to privacy, many employers are therefore always above any power relations with child domestic workers. They are guardians and benefactors, they dispense discipline, they decide if the child can study or not, they may or may not permit days off or any form of outside contact. They have over-all control and their primary interest is to benefit from the child's work. Interestingly, many employers reveal that they employ child domestic workers because many recruiters, friends and neighbours supply younger women nowadays, for the older ones are harder to come by;

Recent studies in Asia show that most parents believe domestic work is the safest form of work for their girls, so they easily fall prey to false promises by illegal recruiters and even friends and neighbours. Elements of trafficking are so pervasive and once in transit, children simply vanish into destination cities offering a myriad of low-paid and often illegal opportunities to earn money -from factory jobs and domestic service to bar work and prostitution;

Aside from illegal recruitment, a closer link between domestic work and commercial sexual exploitation stems from the lack of alternatives and support mechanisms for these young girls. Members of the employers' family perpetuate many of the rape cases handled by the Visayan Forum Foundation. Often, many young girls who display clothing and lifestyles not reflective of their low wages revealed that their employers forced them into homegrown prostitution. Some abused domestics survive the odds by running away but an undocumented hundreds slide into prostitution rather than go home empty handed. This trend supports recent reports by the Social Welfare Department of the Philippines that many young prostitutes are former domestic workers;

Finally, child domestic workers are largely deprived of opportunities for education. The very young seldom continue their education if allowed by their employers because they shoulder their own expenses and still maintain the same workload. Formal education is a tough choice for such a special group of workers so they prefer informal or alternative educational schemes. Sadly, there are few special programs around because these are additional budgetary burdens that overstretch the capacities of educational institutions.

…Let us depart from the common myth that the child domestic work issue is to be confined only to national policy-making and action. This is a very sensitive national issue that can shake the very economic and social foundations of the developing world. Domestic workers, including millions of children, are the hidden workforce that provide comfort zones and competitive advantage to the expanding Asian, African and Latin American middle class. Let our platform therefore be supportive to the benefits of domestic work, while we also boldly address its disturbing features.

Visayan Forum Foundation Inc.
2873 Lamayan Street, Sta. Ana,
1009 Manila, Philippines
Tel: +63 2 562 7821
Fax: +63 2 563 4514
Email: visforum@skyinet.net