KASAMA Vol. 15 No. 4 / October-November-December 2001 / Solidarity Philippines Australia Network
Queensland Multicultural Service Awards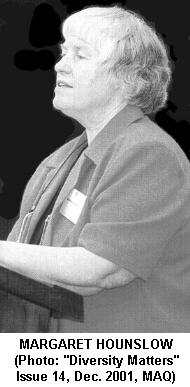 MARGARET HOUNSLOW, one of this year's Multicultural Service award recipients, praised the many unsung volunteers who work tirelessly for the success of a multicultural Australia: "We recognise that we are accepting these awards on behalf of the many thousands of people who, everyday and in a myriad of ways, work towards an inclusive Australia, striving to build happy and harmonious communities that appreciate the benefits of diversity."
Margaret has been a volunteer English teacher assisting refugees and newly arrived migrants for decades. She was a founding member of the Philippines Action Support Group, the antecedent of SPAN, and is a dedicated human rights advocate. A modest and practical woman, Margaret inspires us all with a calm determination, perseverance and positive outlook.
In her speech on behalf of all award winners she paid tribute to the many community groups, ethnic associations and voluntary organisations that "are visible proof of the capacity of ordinary people to see a problem and find creative ways to solve them."
Two Filipinas are also among this year's award recipients: Florcefina Cruz of Brisbane and Edelwina Suede who is based in the Sunshine Coast.