KASAMA Vol. 15 No. 4 / October-November-December 2001 / Solidarity Philippines Australia Network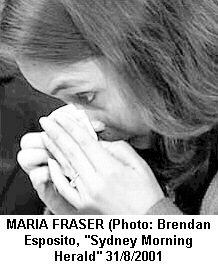 Father charged with the murder of his three children
At 2 am on Monday, August 20, 2001, Steven Anthony Fraser, 33, the estranged husband of Maria Fraser phoned his mother, Anna, and spoke of his desire to be reconciled with his wife and how he did not want to be parted from his children. At 3 am, after speaking to his mother, Mr Fraser allegedly phoned his wife at her home and spoke briefly about "his difficulties".
Maria and Steven Fraser had three children: a daughter named Ashley, 7, and sons Ryan, 5, and Jarrod, 4. All three, by prior arrangement, had spent the weekend with their father at his unit in Caringbah where he's been living for two months after the break-up of his marriage. The children were still in his care when he phoned his mother and Maria. He'd not returned them to their home in Sydney on Sunday evening as arranged.
Evidence of what happened in the next eight hours is not yet revealed. Mr Fraser has acted in an extremely distraught manner, continually sobbing during his appearances in court.
Police said the murders were discovered at 10:50 am on Monday when Mr Fraser's mother, Anna, concerned for the children's welfare, entered her son's unit with the help of a locksmith. They found the bodies of the three children. In the bathroom they came upon Steven Fraser, lying in a tub filled with water, drinking some kind of liquid they thought might be poison. It is also alleged that Fraser wrote messages on the children's bodies and on the walls of his unit.
The Crown prosecutor said the forensic tests would take three months to complete. Mr Fraser's barrister said that his client was in an "extraordinarily vulnerable position, psychologically and psychiatrically." The Magistrate recommended that Fraser be moved to the Long Bay prison hospital for psychiatric assessment and treatment. The matter was adjourned to Central Local Court on November 23, 2001.
More than 200 family, friends and community members attended a requiem Mass for the children on September 5. Maria Fraser gave thanks to her neighbours and the public for their support. Many letters of condolence have been received from the public and the generous donations helped her to organise her children's funerals.
Ms Martha Jabour of the Homicide Victims Support Group said, "There are a lot of open hearts and a lot of sad hearts for Maria Fraser." The support group is collating a log of donations and letters received which will be given to Maria later and this would help her long-term recovery.
Source: with reports from The Age 22/8/2001, Sydney Morning Herald 31/8 & 6/9/2001.
Deaths & Disappearances
Includes updated summary of the Violent Deaths and Disappearances of Filipino Women and Children in Australia as at 31st October, 2003