KASAMA Vol. 15 No. 4 / October-November-December 2001 / Solidarity Philippines Australia Network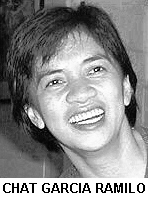 Asian Women Unite On The Web
by Alfred Hermida, BBC News Online, www.bbc.co.uk/news
"The internet has been a boon in breaking women's isolation, creating networks that crisscross national borders, spanning the whole world," says Chat Garcia Ramilo. As project manager for an international women's organisation based in the Philippine capital, Manila, she relies on the internet every day.
The web is making it possible for her and other women spread across the region to work together via the Association for Progressive Communications Women's Networking Support Programme.
"We hold meetings online, work on projects via email, co-ordinate work through online workgroups and run lots and lots of mailing lists. I'd say that 70% of our operation is run virtually. We even have a virtual staff room where we check-in every Monday to let co-workers know what we are doing that week."
OVERCOMING PREJUDICE
The web also plays a pivotal role in another group in which Chat is involved: the Asian Women's Resource Exchange. The Exchange is an umbrella organisation for women's groups across the region, using technology to share information and advice. In the last two years, it has trained almost 100 women from across Asia and the Pacific to use net technology.
But this is just a small step towards overcoming decades of prejudice, says Chat. "As it is, women are still marginalised from technology and have been for a long time," she says." There are still far more men in the science and technology field than women. While more girls are doing science education courses, very few have crossed the line towards hardware and other fields that are more traditionally done by men."
She believes women should take a leading role in shaping and designing new technologies. "There could be many directions of technological innovation that can help empower women. But mostly, not much attention is being paid to fulfil such a need."
COMMON BARRIERS
Women as well as men in developing countries face common barriers, such as the high cost of computers, the lack of phone lines and illiteracy.
Like in most developing countries, access to the internet in the Philippines is largely limited to the cities. In these urban centres, access has increased very quickly in the last couple of years with the growth of internet service providers and internet cafes. But a government plan to wire the country within five years, and develop it as an e-hub in the region has faltered.
For women, there often is an additional obstacle - men themselves. Chat recalls what happened when one of their organisation's members opened an internet centre in Ecuador.
"The information the women found in the internet opened up a new world for them," says Chat. "The training sessions they had became a venue for them to talk about their problems and soon the women transformed the centre as a space where they collectively provided support for each other."
This is when the problems started to arise.
"This evoked uneasiness and hostility from the men in the community. When the community's leadership changed hands, the centre was closed down by the leaders who were mostly the senior men in the community," says Chat.
Despite the obstacles, she is positive that technology can help to improve women's lives.
"Women are using the internet to provide vital information about where to get help when threatened by violence - whether it is domestic violence, rape or political persecution."
About the author: ALFRED HERMIDA is a British journalist who has worked in new technology media for the last four years. A former BBC foreign correspondent, he spent four years in North Africa and the Middle East covering the news for radio and television. Since 1997, he has worked for the award-winning BBC News Online and is currently responsible for setting up and editing a new technology news index.
This article is reprinted with the author's permission.
It is also online at http://news.bbc.co.uk/hi/english/sci/tech/newsid_1627000/1627691.stm
CHAT GARCIA RAMILO is a member of the Centre for Philippine Concerns (CPCA) and Solidarity Philippines Australia Network (SPAN).
The Association for Progressive Communication Women's Networking Support Programme (APCWNSP) web site is at http://www.apcwomen.org
The Asian Women's Resource Exchange web site address is http://www.aworc.org/
WOMEN IN SYNC is a collection of stories about the experiences of women and their organisations who have become a part of the APCWNSP network. It is designed to be a toolkit for women's electronic networking.

All the articles were written from the perspective of women who pioneered in e-mail communications in the days before the internet boom. The articles also tell the stories of women who persevered in utilising computer networking that built connections among women across continents for women's empowerment.

The WOMEN IN SYNC toolkit is published in three volumes: "PUTTING BEIJING ONLINE: Women Working in ICT", "NETWORKING FOR CHANGE: The APCWNSP's First 8 Years" and "ACTING LOCALLY, CONNECTING GLOBALLY: Stories from the Regions"

Getting copies of the toolkit:
You can order by credit card through the APCWNSP web site for US$7 each volume or US$21 for the set of 3 or download them for free as Adobe Acrobat pdf files. Just follow the links from http://www.apcwomen.org/netsupport/sync/sync.htm

There are copies of the three volumes in the CPCA-Brisbane Branch library.