KASAMA Vol. 15 No. 1 / January-February-March 2001 / Solidarity Philippines Australia Network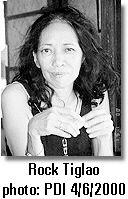 In Memory of Raquel Edralin Tiglao
Many of you of course know Rock, and others may remember her participation in the 1995 Campaign Against Sex Tourism and Trafficking Study Tour. We have reprinted portions of just a few of the messages from Rock's colleagues, comrades, friends and family.
Rigoberto (Bobi) Tiglao
For Raquel, her soul sisters and friends: I couldn't write in the past two weeks. And I wish I never had to write this piece. But I want to tell the whole world about Raquel. She was my soul mate with whom I shared my entire adult life so far. Her life and her dying were poetry, and she had a message for us. ... Feb. 28, 2001 at half past noon, Raquel drew her last breath. ... It was sunlit day with a deep-blue sky, which somehow mollified the nightmare of her death.
... "Tell them not to bring flowers," she told me matter-of-factly before she fell into coma. Just tell them to give donations to the Women's Crisis Center, they need the funds. It was the organization she loved and devoted the last 10 years of her life to. That was so much Raquel. She was no card-carrying do-gooder, definitely not the be-charitable-so-you'll-go-to-heaven type of person. There were people she just detested, whom she refused to be friends with. But it was second nature for her to be so much concerned of others' needs and troubles, forgetting her own.
... There are two images of Raquel which people of our world remember of her.
One is of Raquel the fearless student activist, at the frontlines of demonstrations in the 1970s, against Marcos at the gates of Malacañang, or in a workers' strike, shouting invectives at the riot police, warning them to keep their distance or else. Because of that "Raq" got to be "Rock," then "Rocky." She lived up to that nickname her friends gave her. Even when we were arrested in the middle of the night in 1973, and in the year and half we were in Marcos' prisons, her steely courage earned the respect even of hardened military men.
The second image of Raquel is a front-page newspaper photo in 1970: she, tightly embracing a crying, fellow activist in a violent rally, as if to shield her from the truncheons of the riot police all around them.
Both images truly represent Raquel. When she devoted her last decade to women's rights, she was still the audacious activist, this time threatening to cut the balls off of wife-batterers and rapists. But what many would remember of Raquel was her warm smile, which she kept on even after the left side of her face was marred by her brain tumor excised in 1981. They'd remember the way she wrapped her arm around the shoulder of a person in sadness or in pain. The hours she spent sympathetically listening to people, who told her of their problems.
... Raquel defied the brain tumor and cancer that tortured her body for most of her years, to live a full and meaningful life. She touched many people's lives with her kindness and compassion. As intense though was her anger toward cruel people and oppressors, and her passion for a just society, which inspired many to struggle on.
Raquel's life is a message to us who knew her, expressed in lines in a poem she wrote in 1977:
"Without that total, sensitive awareness
Would knowing bring about true understanding?
Oh, but for a drop of kindness
To soften and solve this sadness."
Raquel taught us that there's more, much more to life than just our own pains, our own wishes, our own dogmas, our own things. It is the drops of kindness we give others which, by some mystical alchemy, expand to create the ocean of our lives. It is the compassion for our fellow travelers through life, the sensitive understanding of each other's troubles and loneliness that make this crazy, cold cosmos still a joyous, miraculous place.
With my daughter Ria, sons Xandro and Dart, I thank our friends, comrades, colleagues and relatives who mourned with us Raquel's death. ... We would like to especially thank Raquel's soul-sisters, friends and colleagues at the WCC and Kalayaan, for the care and love they showered on her in her last year on this earth. Two of the happiest moments of her entire life were last year when the WCC with her feminist comrades, and then the First Quarter Storm Foundation with our kasamas in the 1970s each gave her a party to wish her recovery, and to raise funds for her treatment.
Never will I ever see the intensity of love and friendship they had for Raquel. And we may never know in our lifetimes such a kind, beautiful soul such as Raquel.
Rina Jiminez-David, Philippine Daily Inquirer 3/3/2001
Friends of Raquel "Rock" Tiglao had long known about her health condition. But still it was as if a tectonic shock had riven our community when news came of her passing. ... Rock was co-founder of the Women's Crisis Center, which is today the Philippines' premier crisis care facility for victims of violence against women. It was in her honor and memory that the WCC staff issued a statement, portions of which follow:
"Those of us who have been privileged to serve with her and, at different times, have been lucky enough to have been supported by her, have learned lessons of immeasurable value. Rock has taught us that women have rights and that women must be respected for the decisions we make because in the end, we are the experts on our own lives.
"Rock has taught us to underpin our work with analyses of the root causes of violence against women and to extract theoretical lessons from our experience. But she has also taught us that the foundation of good work is built on love and compassion.
"Her guidance to us has been simple:
"Learn about your feelings because fear comes from not knowing enough about them.
"Learn to laugh about what you are facing.
"Live with dignity.
"Love fully; don't hold back."
Janice Raymond, Coalition against Trafficking in Women
About an hour ago in Manila, Raquel Edralin-Tiglao died after having fought a long and valiant battle against cancer. She was 53 years old.
Raquel was a member of CATW and a great friend to many of us who knew and loved her. A dedicated activist on behalf of women, she founded the Women's Crisis Center in Manila, expanded the Center to include a hospital-based intervention program for victims of violence, and was the center's director for ten years. Her unflagging lobbying, educational outreach, and political activism were responsible for setting up women's desks in police stations, the launching of a national Philippines campaign against violence against women, and a better and more comprehensive rape and sexual harassment law. The moving tributes that came from survivors of violence when cancer forced Raquel to step down as director of the WCC testify not only to her tireless and passionate work on behalf of women, but to the dignity and hope she helped restore to many women's lives.
Raquel helped start CATW in the Asia-Pacific region. When she died, she was on CATW-AP's Board of Directors and on the Advisory Board of CATW International. Although Raquel fought sickness, brain surgery and cancer for almost two decades, she traveled to many different countries in Asia and elsewhere conducting trainings for women's centers. Often she was quite sick but continued on. Her radical form of feminist counseling helped women to believe in themselves and to the realization that they should and can control their own lives.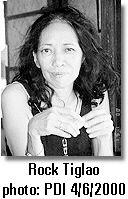 The Women's Crisis Center maintains a 24-hour drop-in center at the 7
th
floor of the East Avenue Medical Center in Quezon City, with phone numbers 926-7744 and hotline 922-5235.
After office hours, call 928-0611.