KASAMA Vol. 15 No. 1 / January-February-March 2001 / Solidarity Philippines Australia Network
Church Workers Arraigned in Balweg Murder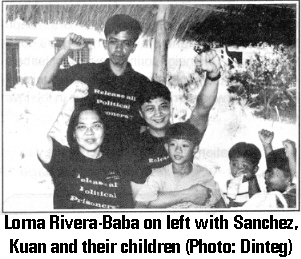 Lorna Rivera-Baba and Rev Emelyn Dacuycuy of the Iglesia Filipina Independiente (IFI), along with several other church and development workers in the llocos and Cordillera regions, were implicated in the murder of Conrado Balweg, former head of the Cordillera People's Liberation Army (CPLA), a para-military group operating in the Cordillera region.
Lorna Rivera-Baba is a lay worker of the IFI in Piddigan, Abra. Unidentified men, wearing black long sleeve shirts with the Philippines 2000 seal, abducted her in front of their parish last year on 17 March 2000. Attempts by relatives and friends to find her during the first five days after her abduction proved futile. Elements of the military denied they had her in custody. But by March 22, she was presented by top ranking officials of the ISAFP (Intelligence Service of the Armed Forces of the Philippines) to the media. In a press conference held in Camp Aguinaldo, military officials accused Baba of masterminding the Balweg murder.
In an interview, it was learned that she was subjected to intense tactical interrogation during her first five days in captivity. She was blindfolded for prolonged periods and was denied sleep and rest. The victim claimed her military captors had also subjected her to psychological and mental torture, all the while insisting that she admit their accusations against her. Last June 8, she was transferred from her isolation cell in Camp Aguinaldo to the Provincial Jail in Abra where a case against 27 other suspects in the Balweg murder case is pending in court.
Meanwhile, the parish priests of IFI in Piddigan, Revs Emelyn and Noel Dacuycuy, had gone to the Regional Trial Court in Bangued last March 31 to inquire if any charges had been filed against their churchworker Lorna Baba. But the two priests were surprised upon being handed a copy of the case information filed in court which implicated them both, along with other churchworkers of La Union and llocos Norte, in the murder of Balweg on 31 December 1999.
By May 8 another churchworker, Normer Kuan and development worker Romy Sanchez, were abducted by unidentified men in a van. The two were also subjected to intense tactical interrogation accompanied by physical, mental and psychological torture. Kuan, a program worker of the La Union-based Rural Missionaries of the Philippines, was blindfolded, kicked, boxed, tied, threatened, humiliated, and slapped in the face many times while being questioned by the military. Sanchez, a worker of the La Union NGO-PO Development Center, experienced no less.
In an interview, the wife of Sanchez disclosed her husband had cigarette burns on his body, bruises on his neck which was tied with a wire and a deep wound in his left leg, which the victim said was slashed with a knife. He claimed he was also molested by a homosexual element of the military intelligence while in detention in a military safehouse. Like Baba, both were kept incommunicado for more than a week, with military authorities denying having them in custody. The two were surfaced by the ISAFP and were transferred to the Abra Provincial Jail on May 18.
Relatives and friends of the victims had requested assistance from human rights lawyers Atty Joe Molintas and Atty Reynaldo Cortes, who immediately worked through the case, insisting their clients had been denied due process. None of the suspects in the murder case were given the benefit of a preliminary investigation. A court hearing on June 7, ruled the necessity of conducting a preliminary investigation before proceeding with the hearing. By August, a preliminary investigation of Kuan and Sanchez was conducted. But the prosecution witnesses failed to appear in court and so the charges against the two were dismissed. Meanwhile, Revs. Emelyn and Noel Dacuycuy, along with another accused, Edson Halabaso, voluntarily presented themselves to the jurisdiction of the court last September 19. Halabaso, the Executive Director of the NGO-PO Development Center in La Union, and the two priests pleaded "not guilty". After two days of detention in the Abra Provincial Jail, all three were released; the charges against them dismissed for lack of evidence.
Yet, Lorna Rivera-Baba continues to be detained. Her name is not included in the case information on the Balweg murder but military officials insist she is one of the five "John Doe's" listed, and insisting further, that her alias is "Ka Liza". In an arraignment and pre-trial conducted last December 4, Baba pleaded "not guilty" to the charges filed against her which includes illegal possession of firearms and the illegal use of an alias, aside from the murder of Balweg. The prosecution reportedly asked her to take advantage of the government's amnesty program for officers and members of the New People's army, which she declined, saying that to do so would mean an admission that she is indeed, a member of the revolutionary underground organization.
Trial on her case, along with the other co-accused in the murder case starts on December 14 while that of the other two charges will be on 22 January 2001, her lawyers said. At present, friends and relatives continue to provide her with material and moral support. Along with other human rights advocates, the struggle to free Lorna Rivera-Baba and other women political detainees continues.
Source: "Chaneg" Vol. IX No. 2, July/Dec. 2000, published by the Cordillera Women's Education and Resource Center, PO Box 1776, Baguio