KASAMA Vol. 14 No. 4 / October-November-December 2000 / Solidarity Philippines Australia Network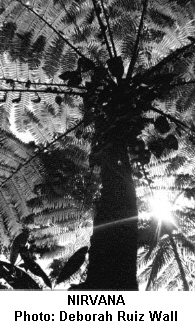 Impressions of a cross-cultural event in Sydney
by Dr Jan Saave, OBE
"FOLLOWING THE HEART"
Deborah Wall & Ali Golding
an exhibition of photography & paintings
8 -15 December 2000, Eora Centre, Sydney
Over 150 people enjoyed the opening ceremony of Following the Heart, an art exhibition by Philippines-born Deborah Wall and Aboriginal elder Auntie Ali Golding of the Biripi people. As well as Aborigines and Filipinos the guests included people from English, Polish, Dutch, Korean, German and Austrian backgrounds. The visitors represented a fascinating range of cultural diversity in contemporary Australian society.
The ceremony was highlighted by a member of the Gumbayyngirr people of northern New South Wales, Senator Aden Ridgeway, who commented on the ongoing Reconciliation process, and the possible future Agreements and Treaty, now supported by Mr Howard, the Prime Minister.
The relatively large gathering of multi-ethnic and multi-lingual visitors, enjoyed this unusually creative and satisfying social and artistic event. Ali Golding is a skilled and experienced storyteller. She thrilled her appreciative audience with a story about the Kookaburra.
As far as I know, this wonderful bird retains a special symbolic significance in many Australian Aboriginal cultures. Kooka, as an unobtrusive and perceptive observer, to me at least, conveys an idea, and the empathy of "a creative co-existence" between man and his physical, as well as his cultural, environments. It could therefore be admired as a symbol of reconciliation between initially opposing elemental forces, yet capable of achieving mutual understanding - with acceptance of existing differences of lifestyle and life objectives, of the black and white communities.
Ali Golding's colourful paintings displayed convincing simplicity, and provided a complementary extension to Deborah Wall's photographic artistry.
As an independent observer, and a dedicated communicator, Deborah captures the essential beauty of her intimate physical surroundings. Her recorded observations in both colour and black and white photographs, offer an immediate visual impact through the dynamics of colour, light and shadow.
The exhibition was indeed a real feast for the eyes. Such cross cultural events emphasise the importance of co-existence and creative potential, which were on this occasion, impressively and memorably conveyed by these two women, friends and fellow artists, Ali Golding and Deborah Wall.
James Wall from Canberra adds his impressions: "Ali's paintings reveal a story while Deborah's photographs sweep from the blazing colours of the desert in bloom to the soft textures of the rainforest. Subtle camera angles reveal details of Uluru. A wide angle view captures the monolith in blue, a contrast to the more usual pictures of reds and browns. These two artists contribute their efforts towards reconciliation."
About the Author: Dr. Jan Saave, a Polish-born Australian, has devoted 50 years to the development of health management in Papua New Guinea and the Melanesian cultural communities as a clinician and health administrator. He is currently engaged as a Consultant to Health Services in Papua New Guinea and Health Aid for Melanesia. His special interest is the contribution of Church health services to curative and primary health care delivery. He was awarded an OBE in this year's PNG Queen's Birthday Honours for services to health and health education in PNG.

James Wall, now retired, was a senior public servant and adviser in the Prime Minister's Department in Canberra.
DEBORAH WALL explained how the Exhibition came about
I am delighted that you could all come to our joint exhibition. At the beginning of this year, I wouldn't have imagined tonight happening at all. Let's call it a bolt from the sky that gave me the idea that this exhibition is possible.
After I returned from my trip to the sacred site of Uluru in Central Australia, I thought I'd love to share these photos that I took during my holidays. Then another idea came to mind - that is, for my friend Auntie Ali Golding, who had painted a mural in Redfern during the Year of the Family, to join me in this exhibition.
You may ask: how on earth did we get together, Ali and me?
We were first of all fascinated by each other's cultural backgrounds: she with her Chilean, Irish and Aboriginal ancestry and me with my Spanish, Chinese and Malay background. So this is one link we have in common, that is, we have such an interesting racial mix. Secondly, we have another common interest, and that is, we are both involved in the struggle towards reconciliation between Aboriginal people and settlers in Australia - and she and I know we're in for a long haul. Thirdly, Ali and I both are doing what we are doing from a spiritual base. So spirituality is another thing we have in common.
While our art does not need words, it can also complement the spoken language. Ali's paintings are visual images of her storytelling - as you know, she is primarily a storyteller. I write poetry sometimes and would like to share one with you tonight.
HEALING FROM ULURU

Here I sit perched on a small rock
Tuning into each cell of my body
Listening to the vibrations around -
Past, present and future in one sweep.
I sit in awe of the grandeur of Creation
Before me, around me, in me.
Oh would my life be a living prayer
So it unfolds naturally as it is so ordained!
The mother embraces me
And I reach out with open arms
To those seeking relief
From sadness, grief and confusion.
Let me be the pause,
The stillness that nourishes the heart,
The space that allows a rest
From the cacophony of sounds
So that we can altogether
Drink from this deep well
That is within all of us
And learn to see the unseen
- the transformation
from nothing to being
and hear the unheard -
the words of silence
within the heart of the continent,
and store in one's heart
the beginning of knowing
and witness the never ending
stirrings of minds and souls
and spirits.
If you who would like to know more about my trip to Uluru which inspired this exhibition, you will find an article in the National Outlook Magazine on the table, as well as a story about Ali Golding, and another written by Senator Aden Ridgeway about reconciliation. It's a good magazine for people who want to understand the meaning behind current social issues.

While I was in Uluru, I was fortunate to meet with Bob Randall, a member of the Stolen Generation who only discovered his roots much later in life. He showed me his traditional land where he hopes to run teaching camps about Aboriginal spirituality. He said to me that spirituality is the ultimate answer to reconciliation in Australia. There is a photograph of Bob Randall standing with Uluru in the background as part of this exhibition.
There's also a book of photographs taken in 'the Block', Redfern and other parts of Australia by John Ogden.
Once again, thank you for coming, have some food and enjoy the exhibition.