KASAMA Vol. 14 No. 1 / January-February-March 2000 / Solidarity Philippines Australia Network
"We're So Syndicated, Ma'am"
Review of a Fowl Play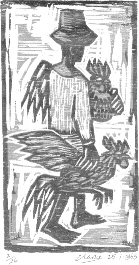 MARIA SOCORRO 'SOKI' PAULIN-BALLESTEROS produced a play to inform Filipino women of the dangers of trafficking. "WE'RE SO SYNDICATED, MA'AM" was such a success that a video version has been widely distributed in the Philippines. The following are extracts from HILMI TOROS' review last year in Terra Viva, the IPS Daily Journal, reprinted in IOM NEWS n║ 3/99
Seoul, Oct 18 (IPS) - A little bit of "fowl play" can go a long way in combating international sex trafficking, one theatrical display showed audiences at the Seoul Conference of Non-governmental Organizations. In a switch from long speeches, caucuses and debates, the Conference was shown the power of a simple and direct communication vehicle - the theater - to drive home points about prostitution and trafficking of women.
Two Filipinos brought their NGO colleagues and UN diplomats to tears with a play titled "We're So Syndicated, Ma'am", described as a 'fowl play' that drew an analogy between the chicken, and particularly the erstwhile Filipino favorite dish lechon manok, and women. The 'fowl play' is inspired after the controversial book by Chris de Stoop on sex trafficking of women in Belgium "They Are So Sweet, Sir: The Cruel World of Traffickers in Filipinas and Other Women".
As Maria 'Soki' Paulin-Ballesteros showed parts of a chicken and prepared lechon manok, her colleague Perlyn 'Lakan' Bunyi simultaneously demonstrated on a life size doll how a victim of sex trafficking is groomed. There is a stunning similarity between the garnishing of a chicken and the grooming of a woman: in freshness, in spices (perfumes for women), in the value of tender limbs, breasts, and legs. "What do chickens and women have in common?" asks the play. Some people may snicker at the question but the answer is definitely no laughing matter. Rather, the query presents a grim truth about the ordeals of Filipinas recruited by sex traffickers .
The underlying message of the play is that while the Filipino consumers crave lechon manok, male customers around the world are going crazy over young women and children. And the message to Asian girls is that there is nothing wrong in seeking greener pastures abroad, but one has to be well-informed about the dangers of working overseas. The play is being staged around the world and a free video production has been commissioned with funding from Belgium.
Peter Schatzer, Director of External Relations for the International Organization for Migration (IOM), puts the value of such trade at between 7 to 10 billion dollars a year. Schatzer appealed for stronger NGO commitment to combat it at home and abroad. Schatzer says the sex trade, mainly to Europe, brought in girls from South-east Asia, the Dominican Republic and Nigeria in the 1980s and early 1990s, but traffickers now import women from within their own continents, including impoverished parts of eastern Europe.
"Women are toys, men are the actors," said an irate Paulin-Ballesteros. "The business is syndicated and protected. We go from community to community to warn them with our play."
A misty-eyed Alice Quedraogo, head of the International Labour Organization's (ILO) Programme on the Elimination of Child Labour, said: "This is what we need to make our point - more NGO involvement and such a medium to captivate target groups."
She said there are indications that the problem is on the rise. "Young girls are not the only victims of commercial sexual exploitationů There has been noticeable increase in the number of boy victims, especially in 'sex tourism' and pornography." And the Internet explosion has made matters worse.
"The chicken business is a sure hit," remarked Paulin-Ballesteros. "Woman business is a sure hit. The supply never runs out. At the end, a life is roasted."
"We're So Syndicated, Ma'am"

A 30 minute video produced by the International Organisation for Migration. 50,000 copies, translated into Philippine regional languages, were reproduced for free distribution with funding from the Belgian Administration for Development Cooperation.

In New York on March 7th this year Soki Ballesteros and Lakan Bunyi were given a standing ovation for their performance at the 44th Session of the UN Commission on the Status of Women.

There is a copy of the video (sub-titled in English) available on loan in Australia from the library of CPCA Brisbane Branch, 84 Park Road, Woolloongabba Qld 4102. Write or email to: