KASAMA Vol. 13 No. 2 / April–May–June 1999 / Solidarity Philippines Australia Network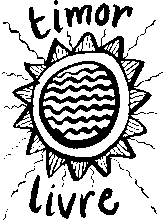 PHIL–SETI
Philippine Solidarity for East Timor and Indonesia
c/o PCISP, 70–1 Matahimik St., Teacher's Village,
Quezon City,
Philippines
Tel: 435 4584 / Fax: 435 4533
Email: kakammpi@skyinet.net
21 May 1999
Dear Friends:
Today, 21 May, Solidarity for Indonesian Democracy (SOLID) held a solidarity picket in front of the Indonesian embassy in Makati City to commemorate the first year anniversary of the downfall of Suharto.
Members of SOLID together with Filipino activists and human rights advocates from Phil–SETI (Philippine Solidarity for East Timor and Indonesia), MASP (Movement for the Advancement of Student Power), IID (Initiative for International Dialogue), Kakammpi (Association of Filipino Migrant Workers and Families), Free Burma Coalition and PCISP (People's Council for International Solidarity and Peace) reaffirmed their support for and solidarity with pro–democracy forces in Indonesia. They reiterated the Indonesian people's demand for total reform now accusing the Habibie government of instituting mere token reforms.
They expressed grave concern for the peoples of East Timor, Irian Jaya [West Papua …Ed.] and Aceh as paramilitary forces, vigilante groups and militias backed and supported by ABRI itself suddenly emerge and engage themselves in a killing rampage targeting specifically activists and sympathizers of the pro–independence movement.
For Habibie's first year in power, the activists made an initial assessment of the performance of the new government vis a vis the people's demands as articulated by members of the militant PRD. The protesters took turns in "grading" Habibie who in the end, received a resounding failing grade bordering on hopelessness. After the grading exercise, as a fitting tribute, the protesters then proceeded to the Indonesian democracy paper–wall to write of their aspirations for the Indonesian people and messages of solidarity to the pro–democracy movement. SOLID will send the original democracy paper–wall to our Indonesian comrades when one of its members visits Jakarta a few days from now.
Aluta continua, Ellene Sana for Phil–SETI
Democracy In Indonesia Is Inevitable
A year ago today, May 21, 1999, President Soeharto resigned from his post ending more than 32 years of dictatorial rule in Indonesia because "it has become extremely difficult for me to continue the leadership of this country" with the economy in shambles, in virtual collapse and pro–democracy forces ever growing in strength demanding political, economic and democratic reforms.
Ending 32 years of dictatorship is certainly a victory for the Indonesian people. It ushered in a new stage in the struggle for democracy in Indonesia. Democratic victories, little they may be, are achieved because of continued pressure from the people and pro–democracy forces. Toppling down a dictator is no easy task. Today, we salute the pro–democracy forces in Indonesia as they continue the long battle for democracy and economic development.
Solidarity for Indonesian Democracy (SOLID), 21st May 1999, Makati City