KASAMAVol. 13 No. 1 / January–February–March 1999 / Solidarity Philippines Australia Network
Photo: ETRA http://www.pactok.net.au/docs/et/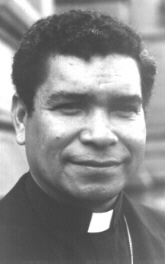 Bishop Carlos Belo Visits Australia
During three weeks in February and March this year, BISHOP FILIPE CARLOS XIMINES BELO, 1996 joint Nobel Peace Prize winner and senior Catholic Bishop in East Timor toured Australia launching a humanitarian aid campaign for East Timor sponsored by CARITAS. On March 1, Bishop Belo was welcomed by Cr Jim Soorley, the Lord Mayor of Brisbane, in a civic reception at the City Hall. The following is a transcript of Bishop Belo's speech.
East Timor is one of Australia's closest neighbours. It suffered neglect during its 400-year history as a Portuguese colony particularly in the areas of health, education, social and economic development. In World War II, the East Timorese people supported Australian soldiers, commandos fighting Japanese forces in the territory and at least 40,000 East Timorese died during the war.
Portugal had already commenced the process of decolonisation when Indonesian forces invaded East Timor on December 7, 1975.
East Timor was incorporated as Indonesia's 27th province in July 1976, a move which remains unrecognised by the United Nations. The East Timor people were not consulted on this issue.
Australia is the only Western nation to recognise Indonesian annexation of East Timor. Thanks to God, your government changed its position and we hope that in the future it will help East Timor toward peace.
Since 1975 there has been ongoing conflict between the Timorese, the thousands of Indonesian forces still in the territory and the resistance movement. Many Timorese have lost their lives in this time from direct and indirect effects of occupation; dying from disease, starvation and war. Breech of human rights have been committed.
Following the fall of the Suharto government in May 1998 there is renewed hope for the future of East Timor. Now, in 1999, for the first time the Indonesian government, through Mr. President Habibie and his Minister for Foreign Affairs, Mr. Alatas, announced that it may consider independence for this former Portuguese colony.
Two weeks ago, Indonesian security forces transferred the leader of the resistance movement, Xanana Gusmao, from prison to house arrest and Gusmao has begun to play a key negotiation role.
President Habibie now says he would like to see East Timor independent by January 1, 2000 if the Timorese reject the autonomy granted by Jakarta. From the other side, underground, elements of the Indonesian military are arming East Timorese collaborators who are in a state of near panic over the prospect of Indonesian withdrawal from the territory.
Now, in my opinion, the most important thing is how to invite these people, the leaders of pro-independence and pro-integration groups to sit down for reconciliation, for dialogue in order to seek a peaceful solution for the problem of East Timor.
In this sense, may I appeal to you, the people of Brisbane and Queensland to maintain your support with technical assistance, in the fields of education, health, agriculture, tourism, industry, to help East Timor to reconstruct the country. For your generosity, your solidarity, on behalf of the people of East Timor, I thank you very much.