KASAMA Vol. 12 No. 3 / July–August–September 1998 / Solidarity Philippines Australia Network
'…i love too beautifully today…'
Merlinda Bobis – poetry in motion (Photo: Spinifex)
Dee Dicen Hunt reviews the launch at the Brisbane Writers Festival of a new poetry collection
Summer was a Fast Train Without Terminals
by Merlinda Bobis
Published by SPINIFEX PRESS, 1998 ISBN 1-875559-76-0
Springtime by the Brisbane River — a perfect setting for a writers festival — and an audience rapt in tales of yesterday and tomorrow. I was spoiled for choice between forums and presentations with intriguing themes and titles: Wild Imaginings; Former Lives; history; identity; longing; the Reconciliation journey — maybe with the promise of a fast summer train.
I had seen Merlinda perform her epic Cantata three years ago at the Australia Centre in Manila, so I knew I was in for a delicious piece of performance art crafted in sensuously passionate language.
I, too, can love you
in my dialect, you know,
punctuated with cicadas
and their eternal afternoons:
'mahal kita. mahal kita.'
In Summer was a Fast Train Without Terminals Merlinda presents her poems in three portions.
First, there is Word Gifts where the themes of love, loss and longing interplay in 33 short poems.
Followed by Promenade, a performance poem in three scenes originally written as a poetry-dance drama for four actors. It traces the cause of war to our sad inability 'to dance' with anyone who belongs to 'the Other camp'.
Finally, Cantata of the Warrior Woman Daragang Magayon, a truly epic poem, makes up more than half the text of this collection. Cantata is a re-worked telling of the myth of Mount Mayon, an active volcano in the Bikol region of the Philippines, said to be the tomb of Magayon. In Merlinda's version, the mountain of fire is 'the ascent of rage and grief of a whole tribe' during a war.
I am the mouth remembering
the coupled heaving of women
and men in another passion
called a war.
I am deeply furrowed
by the universal scar.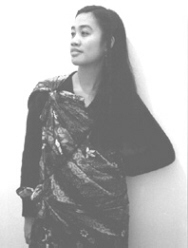 Photo: John Borthwick/Spinifex
Be careful when you read these poems. If you chant and speak them aloud and let them take you to your feet, you might just find yourself dancing — with the Other.
To love in a language "prised between one's wishbone".
To sing of a landscape where village girls "once burst the moon with giggles".
To dance "through the fattest eye of a ricegrain." To do all these in peace and war, especially in war.
Merlinda shares her time between writing, performance, and lecturing at Wollongong University. She next travels to Perth and during November she will be in the Philippines with All the Best from Australia. This exposition of business, trade and culture is Australia's input to the Philippine 1998 Centenary of Independence celebrations. All the while, Merlinda is working on her first novel Fish Hair Woman. Look out for it.
And remember to note in your diary the Brisbane Writers Festival in September 1999. If this year's program is typical, you can be assured of hours, days even, of extraordinary dialogue with expert writers.
At the Writers Festival (Photo: CPCA)
The text quoted from Summer was a Fast Train Without Terminals and their two photographs are reproduced with the permission of
Spinifex Press,
504 Queensberry Street,
North Melbourne, Victoria 3051,
Australia
Tel: +61 3 9329 6088 - Fax: +61 3 9329 9238
Email: women@spinifexpress.com.au
Spinafex Web Site http://www.spinifexpress.com.au/~women