KASAMA Vol. 12 No. 3 / July–August–September 1998 / Solidarity Philippines Australia Network
Arrested, Convicted & Deported. Filipino Ellene Sana (second from left) and American Michelle Keegan (second from right) distribute leaflets in Central Rangoon commemorating the massacre of Burmese opposition supporters ten years ago. Sana, Keegan and 16 other foreigners were later arrested, tried and deported. (Reuters). Downloaded from Manila Times Internet Edition Aug 11, 1998
Solidarity Activists Deported from Burma
Eighteen pro-democracy activists, including Ellene Sana of Manila-based People's Council for International Solidarity & Peace (PCISP) and Sonny Resuena of Task Force Detainees-Philippines (TFDP), were arrested, tried and deported from Rangoon in August for distributing leaflets containing the message:
we are your friends from around the world

we have not forgotten you

we support your hopes for human rights and democracy

8888 — don't forget —

don't give up
This 18-member Multinational Peacemaking Team went to Burma to commemorate, in solidarity with the Burmese people, the 10th anniversary of the August 8, 1988 (Four Eights Day) people's uprising which called for an end to military rule. It will be recalled that soldiers opened fire on pro-democracy activists rallying on the steps of Rangoon city hall that day. A crackdown followed and the demonstrations were eventually crushed with bullets and bayonets, taking thousands of lives. The Burmese military government, however, still claims the death toll was only a few dozen.
The Multinational Peacemaking Team's leaflet distribution came two weeks before an August 21 deadline set by the country's opposition leader, Aung San Suu Kyi, for the government to convene the parliament which was elected in 1990. The military has ruled the country since 1962, and has refused to honour the election result. The parliament has never been allowed to meet.
The Burmese State Peace and Development Council charged that the Peacemaking Team's action to distribute 10,000 of the goodwill message pamphlets printed on red paper was "inciting unrest".
The pro-democracy Bangkok-based group of eight women and ten men calling themselves ALTSEAN-Burma, or Alternative ASEAN Network on Burma, comprised six Americans, three Indonesians, three Malaysians, three Thais, two Filipinos and an Australian. Ranging in age from 19 to 51, they were mostly students and academics.
Debbie Stothard, the ALTSEAN-Burma coordinator said, "They were well aware they might be arrested." She denied arrest was the group's goal, saying the activists had operated in small groups to avoid violating illegal assembly laws.
Ignoring international pressure, the Burmese government put the 18 foreign political activists on trial for violating the country's Emergency Provision Act. The court was presided over by a single judge. There was no jury. But, the trial was open to diplomats and journalists.
Burmese citizens put on trial rarely ever receive an attorney to defend them. Their trials usually consist of having the charges read out, followed by sentencing, and most trials take less than an hour as the sentence is already decided by government officials. Human rights groups and former prisoners say that political prisoners in Burma are frequently subjected to torture and kept in solitary confinement or cells meant for the military's dogs.
In 1995, the International Red Cross pulled out in protest after it was refused access to political prisoners. Since 1997, US companies have been barred from making new investments in Burma because of widespread human-rights violations and the military's refusal to come to terms with Aung San Suu Kyi and the National League for Democracy (NLD).
General Secretary of the National League for Democracy Aung San Suu Kyi (Photo: Free Burma)
In the 1990 elections in Burma, 392 seats in the 484-seat parliament were won by the NLD. However, most of the successful candidates have since died, left the country, or been pressured into giving up on any attempt to claim their mandate. However, Ms Suu Kyi says that more than 80 people are still in Burma waiting to take up their parliamentary responsibilities.
In an official statement released on August 10 by Burma's military government regarding the 18 arrested activists, the regime accused foreign interests of trying to disrupt the education system by getting students to become "saboteurs and sacrificial lambs" in political protests. The regime said that its citizens are not obsessed with politics and they do not see freedom in terms of the right to vote, to demonstrate and express political views publicly. It says they are more concerned about basic rights such as security, safety and a job that provides enough food to eat.
Leaders of the groups to which Resuena and Sana belong, as well as other organisations in the Philippines, urged newly-elected President Estrada's administration to condemn Burma's military junta. After all, the Philippines sponsored Burma's membership in the ASEAN despite the vehement objections of human rights groups and others critical of the regime's suppression of political dissent.
Senator Raul Roco revived an old resolution calling for international support for the cause of Aung San Suu Kyi. He said the Philippine Senate should lead this move because its existence is rooted in the struggle for a democratic way of life.
In the House of Representatives, Resolution 143 authored by Rep. Jose Apolinario Lozada Jr, states "The current leaders of Myanmar, by their acts and commissions, continue to show their unworthiness to be stewards of their country's democracy and membership in the ASEAN. It calls for Burma's suspension from ASEAN "until Myanmar's leaders honor its commitments to… restore real freedom and democracy by honoring the results of the May 1990 general elections."
Protest pickets were organised by the Free Burma Coalition in front of the Myanmar embassy in Manila [in May 1989 Burma was renamed Myanmar…] every day throughout the detention of the 18 activists.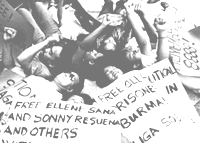 Protest in Makati. Indignant over the arrest of 18 pro-democracy activists in Burma, protesters stage a "die-in" in front of the Burmese embassy in Manila. Daily protests were planned to continue until their release. (Rodel Rotoni, Asiaonline, TODAY 14/8/98)
In Australia. 30 people demonstrated outside the Prime Minister's Sydney office. A letter urging Mr Howard to intervene was handed to staff. (Sydney Morning Herald 11/8/98)
Task Force Detainees of the Philippines (TFDP) assailed the junta. "The military authorities in Burma have displayed the naked force of terror for clamping down on human rights and holding the activists in prison," said Aurora Parong, TFDP executive director.
From Washington, the Reuters news agency reported Secretary of State Madeleine K. Albright as saying that a "moment of truth" was approaching for Burma's military-led government and that it was vital to push for democratic dialogue in the coming days. Also, White House press spokesperson Mike McCurry said, "This episode is a reminder that there is an absence of protection of human rights in Burma and a failure of the Burmese government to allow freedom of expression."
Australia's Foreign Minister Alexander Downer commented, "I think what this does is simply expose the regime in Burma in a way it deserves to be exposed; that is, it is a regime that doesn't allow any dissent, any discussion, any debate." About the arrest of Sydney academic, Alison Vicary, he said she had done "what people all around the world do; … just mount a very peaceful protest".
Philippines President Joseph Estrada made a personal appeal for the release of the Filipinos. "I wish to express my deep concern over this matter," Estrada said in a statement. "I request the government of Myanmar to respect the rights of the two Filipinos and ensure their safety and humane treatment."
The activists were charged, after six days of questioning and investigation, with violating Burma's 1950 Emergency Provision Act. This is a catch-all law which allows the authorities to hand out maximum 20-year jail sentences for attempting to incite unrest or disrupt the peace and stability of the state.
The trial of the 18 lasted the whole of Friday. Reuters news agency reported that they appeared relaxed as they whispered to each other and drank from water bottles. At the end of the day, the judge (there was no jury) found them guilty and they were sentenced to five years' hard labour. Almost immediately after sentencing, officials announced suspension of the sentences and that the activists would be deported the next day. They spent their last night in Burma in a police guest house.
Christine Avendaņo reporting for the Philippine Daily Inquirer said the 18 activists' arrival at Bangkok's Don Muang Airport on August 15 was greeted with garlands of yellow jasmine and pink roses. About 200 cheering supporters and relatives waving red and white banners shrieked with joy as they appeared in the airport's lounge in an emotional celebration of the action defying Burma's ruling military government.
"Of course, I'm very happy," said Sana. "I didn't want to stay there any longer."
"They never told us anything the whole time we were there," said Tyler Giannini, an environmental lawyer from the US. "We did not know we were being charged until we went to the trial."
US Representative Chris Smith, chair of the House International Operations & Human Rights subcommittee, was at the airport to meet Michele Keegan whose family lives in his constituency. "They simply promoted human rights, and we ought to be giving them a medal instead of a suspended sentence," he said.
Of the six US citizens deported, four are students from The American University, Washington DC. Sapna Chhatpar said, "As foreigners we were treated like kings and queens. What's horrible about this is… Burmese who were convicted for the exact same thing have been sentenced to life or even killed."
On the whole the 18 were treated well. Rhowena Parungao in Manila Times Internet Edition reported Ellene Sana saying that on her first day in detention, she was brought to a guest house and while waiting for the police to begin their interrogation, she asked for and was given coffee and bread. Later, she and the lady soldiers sang popular songs to pass the time. "In the mornings they would give me flowers and put them in my hair… I told them I just sympathise and empathise with their people," she said. "They know they have a problem, they would like to find a solution but cannot do anything about it."
Sonny Resuena however was kept under armed guard in a bicycle shed. "We have no lawyers," he said. "When we did not answer as to whether we plead guilty or not guilty, the military assumed we pleaded guilty."
Alison Vicary told the press conference that before their arrest they had asked people in Rangoon whether they supported the military regime. "They said: 'No, we don't, but we are scared,'" she said.
"If we have at least advanced the fight for human rights and democracy and made people's lives better in Burma, it has been worth it," said Malaysian activist Chong Kok Wei.
The trial, conviction and subsequent suspension of the sentences enabled the military junta to keep face, while at the same time avoid repercussions from the governments of the activists' home countries.
— by Dee Dicen Hunt with reports from PCISP and various news agencies
KEEP INFORMED & KEEP IN TOUCH
People's Council for International Solidarity & Peace

PCISP, P.O. Box SM 193, Sta. Mesa, Manila 1008 Philippines
Tel/Fax: +63 2 435 4533
Email: kakammpi@skyinet.net
Internet Web Sites:
Burma Support Group, Sydney http://www.zip.com.au/~firstnet/BSG/
Free Burma Home Page http://sunsite.unc.edu/freeburma/
Democratic Voice of Burma http://www.communique.no/dvb/
Faxtoon: People's Parliament http://www.faxtoon.com/
All Burma Students Democratic Front (Australia)
http://www.geocities.com/CapitolHill/Lobby/3190/
Free Burma Coalition http://www.freeburmacoalition.org/
In Brisbane:
Burma group meets monthly. Contact: Pat Morahan c/- AWD (07) 3891 5877