KASAMA Vol. 11 No. 2 / April-May-June 1997 / Solidarity Philippines Australia Network
Sex Trafficking Is Contemporary Slavery
statement presented to the United Nations General Assembly on 6 December 1996
by Dorchen A. Leidholdt, co-Executive Director of the Coalition Against Trafficking In Women.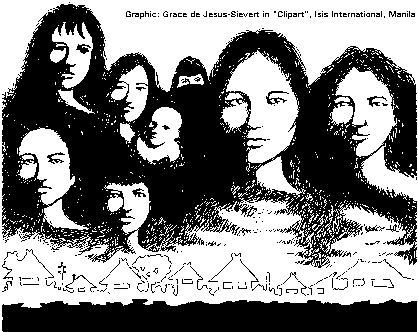 Today we commemorate the struggle to abolish human slavery. It is very fitting that on this day the Philippine delegation brings before this body its Resolution on Trafficking in Women and Girls.
Sex trafficking is contemporary slavery. Its bonds are not shackles of iron but poverty; the social inferiority of girls and women; the sexual abuse of girls, often by members of their own families; racist stereotypes; the willingness of families, communities, countries to sacrifice their daughters for their own material gain; and the dominance of the Northern countries over Southern countries.
The slave traders and profiteers are not only unscrupulous individuals. They include organized crime syndicates, hotel chains, media moguls, legal businesses, computer networks, and sometimes even governments. The consumers of this slave trade, without whom it would not exist, are often ordinary men who believe themselves entitled to purchase a woman or child's body and human dignity.
To the objects of this slave trade, trafficking means unspeakable humiliation and brutality. It means the erasure of childhood and the denial of a future. It means daily experiences of "bought and sold rape," as one victim described it. And often it means a sentence of death either at the hands of traffickers or customers or by infection with the AIDS virus.
What is sex trafficking and what is the environment in which it flourishes? In essence, sex trafficking is the sexual exploitation of a human being for the purpose of another's financial gain or sexual gratification. In sex trafficking the merchandise is transported, sometimes from region to region, usually South to North, sometimes from block to block. Trafficking may or may not be the product of overt force and deception but it is always the product of inequality.
Sex trafficking is rooted in, and is inextricable from, other practices of sexual exploitation: sex tourism, marriage markets, pornography, and prostitution. In fact, women and girls are often first exploited in local prostitution or sex tourism and then trafficked globally. These practices reap billions of dollars for the growing international sex industry as it expands into new markets and seeks out new and often younger victims.
The international sex industry has normalized sexual exploitation worldwide. In spite of the gains of the women's movement, women are more than ever viewed not as productive citizens but as sexual merchandise. Pornography, the public relations arm of the sex industry had become more pervasive than ever before, invading new technologies and shaping the sexuality of new generations of men and boys. In some countries, the sex industry has become so powerful, so entrenched, and so accepted that its profits are beginning to be factored into the gross national product.
There are those who would have us make distinctions: between sex trafficking and other practices of sexual exploitation; between the sexual exploitation of children and that of women; between sexual exploitation that is carried out by overt force and deception and that facilitated by deprivation and despair. There are those who would have us believe that some faces of sexual exploitation are to be tolerated or even valourized as sexual liberation or sex work. Not coincidentally, this is the position that the sex industry itself, which fails to make such distinctions, would have us adopt.
To all those in defense or denial, we affirm that human rights are indivisible. All forms of sexual exploitation violate human dignity and thus are incompatible with human rights. All forms of sexual exploitation must be challenged if we are to stop trafficking in women and children. This resolution is a brave and important statement. But it must be a point of departure, propelling us into action that effects significant social change. We need a multifaceted strategy that, like the sex industry itself, is of global dimensions. We must strengthen and implement existing human rights instruments that address this problem, like the 1949 Convention. We must consider the need for a new human rights convention: one that recognizes that sexual exploitation is incompatible with human rights; and that provides restitution, redress, asylum, and social services for victims.
But new law is meaningless unless there is a powerful will to change on the part of governments, NGOs, and ordinary people. This means challenging entrenched practices that may benefit or gratify some, examining and changing the way we treat those with less social power, especially women and girls, and creating a climate of zero tolerance of sexual exploitation. Never has it been so urgent that governments and non-governmental organizations work together to combat the systematic violation of human rights through sex trafficking and all other forms of sexual exploitation. Although our task is daunting, our goal is inspiring - nothing less than the dignity, safety, and equality of the women and girls of the world.
The above Statement was presented on behalf of the CATW together with the International Abolitionist Federation and the Third World Movement Against the Exploitation of Women in support of the Resolution on Trafficking in Women and Girls.

Reprinted from: Coalition Asia-Pacific Report, March '97
Related articles: