KASAMA Vol. 11 No. 2 / April-May-June 1997 / Solidarity Philippines Australia Network
In November 1996 the Philippines played host to the Asia Pacific Economic Cooperation (APEC) Leaders Summit. AZIZ CHOUDRY attended the Manila People's Forum on APEC '96 and a preparatory conference held in Davao City on Economic and Social Development. His article is reprinted from KAPATIRAN, April 1997, the newsletter of the Philippines Solidarity Network of Aotearoa (PSNA).
APEC's Thriller in Manila
by Aziz Choudry
"The nature of some modern crimes is more nefarious than in the past. A new species of transnational criminal has been spawned, a criminal who perpetuates all manner of outrage without respect for the laws of any country".
No, this statement was not made by a delegate attending any of the anti–APEC events held in the Philippines last November when the Ramos government hosted the 1996 Asia Pacific Economic Cooperation (APEC) Leaders' Summit in Manila and Subic. It came from Domingo L. Siazon Jr., Philippine Secretary of Foreign Affairs (and Chair of the Eighth APEC Ministerial Meeting) commenting on two bilateral deals signed between the US and the Philippines for cooperation on fighting crime: the Philippines–United States Extradition Treaty and the Philippines–United States Mutual Legal Assistance Treaty. But his words could equally sum up the activities of the corporate interests driving the trade and investment liberalisation agenda, both in the Philippines and throughout the Asia–Pacific region. And the Philippine government, engaged in what Congressman Wigberto Tañada describes as a programme of "all–out liberalisation", has willingly aided and abetted the ongoing corporate colonisation of the country by rushing to amend its laws to comply with the dictates of the World Trade Organisation.
President Fidel Ramos saw himself as a "superstar leading a constellation of rich and powerful nations in the liberalisation and free trade scheme" according to a speaker at the Manila People's Forum on APEC (MPFA), one of the alternative forums held to challenge APEC. Ramos announced that the Philippines "must blaze the trail that others must follow". His government has undertaken a programme of sweeping unilateral reforms which contrast with many of the Philippines' ASEAN neighbours who still approach the question of liberalisation with some caution.
The 1996 APEC Summit in Manila and Subic Bay was marked by unprecedented mass mobilisations against APEC and the free trade, free investment agenda which it promotes. Leaders of the 18 APEC member economies have adopted a goal of free and open trade and investment by the year 2020.
Many Filipinos already know too well the kind of development that APEC stands for from their own experience which explains the depth and level of opposition to the 1996 APEC Summit. New Zealanders opposed to the General Agreement on Tariffs and Trade (GATT— now called the World Trade Organisation) and APEC often point out the similarity between these global and regional processes, and domestic market reforms like Rogernomics. So too in the Philippines, many believe that "APEC means another Philippines 2000's economic curse" as one placard on a protest rally read. Philippines 2000 (also known as the Medium Term Philippine Development Plan for 1993–98) is Ramos' development programme based on World Bank/International Monetary Fund–designed structural adjustment and free market policies, with its main aim being rapid economic growth. The Philippines 2000 rhetoric is so ubiquitous that even the country appears to have been renamed "Philippines 2000" according to passport entry and departure stamps.
Ramos' obsession to attain NIC (Newly Industrialised Country) status by the year 2000 has ensured a growth that "creates a few islets of prosperity amidst a vast ocean of misery, that leaves an ecological wasteland to the next generations and that deprives people of the right to determine their own destiny…". (Philippines 2000 Human Rights, PhilRights, 1994).
This fast track market–driven, export–oriented model is leading to very real "development aggression" as whole communities are being trampled on, displaced and further impoverished. Development disputes have been accompanied by conflicts over land rights, environmental degradation and the rights of indigenous peoples. There have been extra–judicial executions, disappearances, and harassment of community activists. Small farmers, fisherpeople and jobs in small and medium sized enterprises are being skittled as the Government bends over backwards to attract foreign, often transnational, investors and set up big development projects which fly in the face of Ramos' avowed commitment to "growth with equity" and "sustainable development". Through its commitments to GATT and APEC it threatens to lock the country into this model of development forever.
Terrorism, Massive Demolitions and Friendship Lanes
In the lead–up to the APEC Summit, rhetoric about the wonders of free trade and market economics was as thick on the ground as Manila's congested traffic. Former Marcos Defence Chief and current Senator, Juan Ponce Enrile, described the Summit as the "most important event ever to be held in our country … many times bigger than the IMF–World Bank Meeting in 1975, the Thrilla in Manila between Muhammed Ali and Joe Frazier also in 1975, and the Miss Universe Beauty Pageants."
Apparently the Philippines was no longer the "sick man of Asia". After all, both Newsweek and The Economist had recognised the Philippines as the newest economic tiger in Asia within the same week. Newsweek (25/10/96) said that Filipinos saw the APEC Leaders' Meeting as "a coming–out party, a chance to show off their rise from nearly a century of dependence on the United States toward the ranks of Asian tigers… Now that Filipinos have adopted free enterprise and free thinking, they have tigers on their minds — big, Asian tigers".
The massive dislocation and suffering following the eruption of Mt. Pinatubo was added to by heavy militarisation and human rights violations in Central Luzon. Since August 1996, human rights groups reported that locals had been subjected to warrantless arrests, illegal raids and searches, arbitrary detention, curfews and checkpoints. Paramilitary groups were reactivated. Nine military battalions were deployed all over Zambales, Bataan and Pampanga in preparation for APEC. East Timor's Nobel Peace Prize laureate, Jose Ramos–Horta, was denied a visa to attend the Manila People's Forum on APEC, to placate Indonesia — fast becoming a major investor in the Philippines. Others wondered if our names were on a blacklist of 100 suspected "trouble makers" which the Ramos administration claimed it would not allow into the country before or during APEC as "inimical to the national interest".
As far as Ramos went, any critical attitude towards APEC now constituted "terrorism". Five Sri Lankan workers and unionists on their way to the MPFA were detained at Manila airport and sent back a week before the official meetings began. In a fax to the MPFA organisers, the Sri Lankans stated: "This is the globalisation the APEC leaders are going to impose on us. This is the type of democracy they want to establish". Conrado De Quiros in the Philippine Daily Inquirer on 25/10/96 argued that: "By preventing Ramos–Horta from talking about the struggle of his people… (President) Ramos has said a mouthful about what APEC, and his concept of development, really are… Has Ramos suddenly forgotten all that talk of globalization and competitiveness? If you can allow goods to flow freely into countries, why can't you do the same thing for ideas? If APEC can only lose out in competition with the struggle of the East Timorese to be free, then it ought to. That is the law of the market. That is the message of APEC."
Demolitions of urban–poor communities were one of the most enduring images of the human cost of the APEC Summit. According to some estimates, the number of squatter demolitions in 1996 was up 69% on the previous year. Most of these took place after July when the country was in the thick of preparations for APEC. The Ramos government claimed that it was merely coincidental that thousands of Manila's urban poor had their makeshift homes demolished to make room for road construction and for cosmetic purposes in the months prior to APEC. When the Government ran out of time to do this it put up fences or billboards to disguise the fact that the much vaunted development and economic growth which they so desperately wanted to display to potential foreign investors was not benefiting large sections of Philippine society. The eviction of so many homeless, all to create a good impression for APEC delegates and potential investors, received widespread local and international media coverage. Further to this end, the side of one highrise office building was aglow with fluorescent lights beaming the APEC logo sandwiched between the words "Peace On Earth Goodwill To All Men" and a nativity scene, while a small army of workers feverishly painted the kerbstones white.
Senator Enrile slammed the media, saying that they had become a willing tool of the Left by highlighting reports on demolitions and the conflict between the government and the hosts of anti–APEC parallel conferences.
The security measures and elaborate preparations devised for APEC led many Filipinos to ask if this was the excuse that Ramos needed to impose Marcos–style martial law on a large chunk of the nation. By the time the official meetings kicked off in Manila, local citizens had been added to the list of "unsightly images" which the Government did not want delegates to see, as an enforced four day holiday began, designed to keep people off the streets. While the Government claimed to be democratic, political prisoners mounted a hunger strike to expose the truth to those assembled for APEC. There were several bomb scares, tales of "Pakistani–trained" Filipino assassins running around on Basilan in readiness to knock off APEC VIPs. In Subic, two drunk American businessmen were arrested on suspicion of being "Jordanians". Unionist Filemon "Popoy" Lagman was arrested and held by military intelligence in a clumsy and thinly disguised attempt to get him out of the way before the APEC meetings. In and around Subic, thousands of farmers were told that after November 1 they could not go to their farms to harvest their produce for "security reasons".
The security paranoia and the creation of the "friendship lanes" — two lanes each way on four of Manila's main thoroughfares reserved for the exclusive use of APEC delegates and officials so that they could move around without being affected by the traffic — was intensely irritating to many Filipinos right across the political spectrum. Writing in the Philippine Star (26/11/96), Alejandro R. Roces berated the friendship lane concept as an example of "colonial mentality" ignoring the needs of local people all for the sake of giving APEC delegates the illusion that there were no traffic problems in Manila. And it was hard to not see the irony of how the APEC Leaders Meeting took place at the site of a former US military base, and now part of a "special economic area" with an appalling record of labour abuses, and a draconian administration chaired by Richard Gordon.
The International Forum on US Military Toxics and Bases Clean–Up, one of the non–governmental meetings taking place around the time of the APEC Summit, drew attention to the toxic legacy of the US military presence at such places as Clark Base and Subic Bay. In November 1994, President Clinton denied the existence of environmental problems resulting from US military use of the bases, despite the US General Accounting Office and Department of Defense documents which both showed evidence of this. Subic had been described as a toxic "horror story", while water in the Clark Base area remained seriously contaminated by chemicals from a vehicle maintenance area, causing sickness among those relocated to the site after the Mt. Pinatubo eruption. Filipino and international activists alike renewed their call for the US government to behave responsibly and clean up the mess it had left in the bases.
For the APEC meetings, Subic was to become a virtual fortress. Meanwhile in both Manila and Subic, marches and rallies were orchestrated by the Government and Subic Bay Metropolitan Authority chair Richard Gordon's cronies to counter anti–APEC actions. While some of these, like the prayer rally we passed near Quezon City appeared to consist of rather bewildered looking people not sure quite why they were doing what they were doing, others flared into violence, doubtless encouraged by Gordon's goons. The Director of the PREDA Foundation and organiser of an alternative meeting on APEC in Subic, internationally renowned Irish priest Father Shay Cullen and a British photographer were attacked by people suspected to be Gordon supporters prior to the APEC Summit.
Some overseas delegates were on the receiving end of threatening phone calls and other intimidatory tactics. In light of such goings on, it was deeply ironic to hear that the Government was adopting a policy of "maximum tolerance" to deal with those opposed to APEC.
While Manila's urban poor watched bulldozers destroy their squats, 18 luxurious Mediterranean–style villas (one per "economic leader") were constructed especially for the event at a cost of US$50 million for about six hours use by the leaders. Meanwhile the Government spent a reported 75.5 million pesos to buy and feed 75 German Shepherd dogs trained to sniff out explosives. Airline schedules were severely revised in honour of all the venerable freetraders and their entourages winging their way to Manila. After hitting the tarmac in Manila on the way back from Davao on a flight which had already been considerably delayed, we had a 45 minute wait seated in the plane to give Bill Clinton's advance party the chance to clear the airport terminal. This was a trivial inconvenience compared with what many experienced.
Davao Conference: Free Trade's impact on Mindanao
The Davao conference on economic and social development was one of several organised in different cities to discuss the impact of APEC's agenda on various issues prior to the main forum in Manila.
The human and environmental costs of "development" and "growth" in Mindanao starkly contradicted the hype which was being pumped out of Manila. Concerns about the local version of the Philippines 2000 programme, Mindanao 2000, and the BIMP–EAGA (Brunei Indonesia Malaysia Philippines East Asian Growth Area) scheme — both of which are designed to attract foreign investment into the island — were widely voiced at Davao.
The impact of further agricultural liberalisation on food security and the livelihoods of small farmers was discussed in Mindanao, where peasants, most of them landless, make up the majority of the population. Issues of indigenous self–determination and ancestral domain also featured strongly, reflecting the ongoing marginalisation of Lumad peoples in Mindanao. Successive waves of colonisation had already forced many Lumads on to marginal lands in the hills. In October 1996, Lumad leaders in Southern Mindanao had warned that they had no choice but to arm themselves and prepare for war to defend their lands against encroachment by development projects. These include 23 applications to mine over two million hectares — about 20% of Mindanao's land area, and some 150 logging projects totalling 406,162 hectares of land.
The October 1996 creation of the SPCPD (Southern Philippines Council for Peace and Development) while also being heralded by Ramos as a "solid breakthrough" which could end the 24 year Moro armed struggle for self–determination, was another dynamic. A common concern about the SPCPD, signed between the Moro National Liberation Front (MNLF) and the government, was that the development framework proposed was the same as the Philippines/Mindanao 2000 version of growth through trade liberalisation. Many activists feel that Ramos merely wanted to signal that peace and order exists in Mindanao in order to attract overseas investors — not to negotiate a genuine settlement of the grievances of the socially, politically and economically marginalised Moro.
Meanwhile, the epithet "booming" is being applied in official documents to Mindanao, replacing words like "underdeveloped" "strife–torn" and "lawless". While Davao has a very different feel to that of Manila, there is a strong sense that it is being thrust into the fast lane for development. It is seen as the gateway to the East ASEAN region because of its strategic location. Considered the world's largest city in terms of land area, the capital of Southern Mindanao is the largest urban market in BIMP–EAGA, with a population of well over a million. The Philippines government, through the local version of Philippines 2000, Mindanao 2000, is promoting it as a tourism and trading centre. The Davao Investment Promotion Centre, tasked to encourage investments in Davao, is seeking further investment in five priority areas: property development, agribusiness, trans–shipment, tourism and light manufacturing.
The human cost of tourism development was made quite apparent when some of us attending the pre–forum conference on economic and social development in Davao went on an exposure tour to Talikud Island, a short boat ride off the coast from the city, and the target for one of an increasing number of "eco–tourism" development projects in the region. The neighbouring and better known Samal Island has recently attracted the interest of Malaysian conglomerate Ekran Berhad to develop as a 1,700 room tourist resort and casino. Ekran Berhad is the main company involved in the construction of the notorious Bakun dam in Sarawak which will flood tens of thousands of homes of the Dayak people. This is the largest single project resulting from EAGA, costing an equivalent of A$150 million.
We visited Barangay Cogon on Talikud, which has already been relocated to make way for the creation of a resort on a 24 hectare site. Talikud has white sand beaches, virgin coral reefs and is easily accessible from Davao. Cogon comprises about 600 families, some 2,000 people in all, left in limbo by this relocation. They had not been consulted, and much of what they knew about the development plans had come by word of mouth. Back in Marcos' time, said a spokesperson for the barangay, promises of "development" and jobs had been made to the islanders who eke a living primarily from copra production and fishing. Mostly they lease land from Chinese traders to whom the processed copra is sold — and who also determine the price. The area's small fisherpeople are already battling the depletion of fish stocks by trawlers which fish with impunity with far more sophisticated equipment than the outriggers, lines and small nets which most of the locals use as tools of their trade for subsistence fishing. Their boats are too small to go out further while sites for landing fish are dwindling on the land. In the cases of areas being developed as resorts, perimeters are placed around the beach area to block fishers' access. In October 1995, small fishers in Davao had marched to call on the Government to set up a 15 km exclusion zone for commercial shipping. They are still waiting. The islanders face a bleak and uncertain future, fearing that the tourism venture will push up prices, make their life on the island even harder, and introduce problems such as prostitution and crime.
Indeed, the same could be said for the majority of Mindanaoans, given the model of development being imposed on them. A 1994 government report stated that 51% of families in Mindanao could not afford basic necessities like food and shelter. Davao City registered the highest incidence of malnutrition in Southern Mindanao in 1996, reported the National Nutrition Council. While Davao is supposedly booming, so is urban poverty. A local activist explained that the urban poor are increasing as people move from rural areas in search of work, to get away from conflict or having been pushed off their land. A relatively recent phenomenon impacting on their lives has been the spread of AIDS among Davao's urban poor, as women and children are trafficked overseas as sex workers and return infected.
It is cruelly ironic that as the Philippines government welcomes foreign investment with open arms and imposes further liberalisation policies, many ordinary Filipinos are pushed to migrate in search of a better life overseas, but often end up being exploited, raped or killed.
Later, at the Manila People's Forum, Yayori Matsui, Director of Asia–Japan Women's Resource Centre, recalled some of the tales told by Aga, a Moro social worker from Mindanao. Since the late '80s young Moro women have been sent to the Middle East as domestic helpers "believing that Islamic countries treat Muslim women from the Philippines nicely… But actually, many of them were sexually abused; one hundred women out of five hundred came back due to sexual violence and/or non–payment". Meanwhile, back in Mindanao, "development projects by and for the multinational corporations and the Government, their allies, displace and uproot communities one after another and force people to migrate to urban squatter areas or overseas as migrant workers. TNCs (trans–national corporations) can profit from construction of a big fishing port, a huge international airport, prawn cultivation and fruit plantation, and consumers of rich countries can enjoy such products. On the other hand, local people are impoverished… Poor people and children are dying, due to lack of food and malnutrition; on the other hand, the vast land is used to feed foreign people outside. Isn't it unfair?" asked Aga.
Already, foreign owned and controlled corporations operating in Mindanao are fewer in number compared to those owned by Filipinos and Filipino–Chinese, yet they amass more than half of revenues and profits, enjoying strong government support and incentives.
The impact of agricultural liberalisation on small farmers in Mindanao is devastating. Over half a million corn farmers on the island earn under US$100 a year but are forced to compete with corn imported from the US, produced with a subsidy equivalent to 100 times their income. This is before past subsidies for development of transport and marketing infrastructure are taken into account. Consequently it can be exported into the Philippines at prices up to 30% lower than what can be produced locally. This is the reality of "free trade". The US is encouraging the Philippines to become a lucrative agricultural export market, and the Ramos government has recently removed quantitative restrictions on imports. It is a dangerous recipe which will make Filipinos even more dependent on food imports and undermine small farmers' livelihoods.
Mass Opposition and Big Business
Filipinos mobilised against APEC not only in Manila and Subic, but in Cebu, Iloilo, Bacolod City, Davao and elsewhere. Workers, peasants, students, indigenous peoples, women and international delegates to the alternative forums on APEC hit the streets in a variety of ways.
As well as the MPFA, there was the BAYAN/KMU–organised People's Conference Against Imperialist Globalisation (PCAIG). Solidarity of Labor against APEC in Manila (SLAM APEC) dressed as devils and marched and picketed through the city. PCAIG and MPFA organised two "people's caravans" — convoys of jeepneys and other vehicles carrying thousands of people, festooned with anti–globalisation, pro–people banners which tried to get into the cordoned–off (maybe that should be "Gordoned–off") Olongapo area. As well as police roadblocks and mock–up road and bridge repairs designed to delay the protest caravans, the Air Force was used to seed the clouds to create rain on the day of the rallies and mass mobilisation. Security forces successfully snarled the Subic bound traffic to such a standstill that it became impossible to proceed by vehicle. Those activists who had managed to get into Subic reported a very tense situation, holed up in various buildings surrounded by security forces and Gordon goons alike.
Back in Manila, the Asia Pacific Labour Network of the ICFTU (International Confederation of Free Trade Unions), chaired by the New Zealand Council of Trade Unions' Ken Douglas, had met with Ramos in late October 1996 to put forward a "Trade Union Vision for APEC" and urging APEC Leaders to establish an APEC Labour Forum (APLN), similar to the APEC Business Advisory Group which represents the interests of business within APEC. The APLN accepts globalisation and economic integration as givens but asked APEC to "eliminate exploitation, discrimination and repression in the workplace". But, as Robert Reid, Wellington–based coordinator of the Asia Pacific Workers Solidarity Links Network points out: "This will be as successful as urging a tiger to become a vegetarian. For those organising at the grassroots… exploitation, discrimination and repression in the workplace are the natural consequences of globalisation, not an unfortunate by–product that can be fixed by a social contract."
Ramos reportedly promised to convince his APEC counterparts to promote worker rights and to fight the exploitation of child labour, saying that he would try to push forward trade unionism "which really is a specific component of human resource development and social equity" into the APEC agenda (Manila Chronicle, 2/11/96).
The Government also claimed that it had consulted with the "overwhelming majority" of people's organisations and had "thoroughly revised" its individual action plan (IAP) — its framework of policy reform to be tabled at APEC outlining its commitments to liberalisation, to incorporate environmental and social concerns. It met with representatives of the APSUD (Asia–Pacific Sustainable Development Initiative) conference who proudly announced that they had got a serious commitment from the Ramos government that it would push for "sustainable development" within both the Philippines action plan and the APEC meeting. Notably, the APSUD conference was listed on the official media timetable distributed to journalists accredited to cover APEC.
The Government ran a large newspaper advert boasting that it was a "government that listens to its people" on the basis of the APSUD "dialogue". "In short", said Ramos, "the principle of sustainable development governs the Philippine IAP". Such meetings were used as an attempt to stave off criticism of APEC as an antidemocratic, secretive process which puts the greed of Big Business before the needs of peoples and the environment.
With the creation of the APEC Business Advisory Council at Osaka in 1995, Big Business became a formal adjunct to APEC. Business featured much more visibly in 1996; at the APEC Business Forum (ABF), Ramos' baby, a two–day summit of some 600 chief executive officers from major corporations met to put their own proposals to the APEC meeting; and to lobby ministers from the 18 member "economies".
While in Manila, I remembered Shay Cullen's wry comment when I interviewed him for alternative radio in Christchurch, a few years ago, about Ramos' tendency to co–opt the language of liberation and social justice struggles to use for his own ends. The Ramos cup literally overflowed with statements about how, through APEC, business would stand "shoulder–to–shoulder" with people and governments in the pursuit of the "vision we all share in the Asia Pacific community". Claiming APEC to be at the frontier of new models of development cooperation, he said that "everyone contributes in accordance to one's capabilities", and that there no longer exists "junior partners" but only "equal partners"…
At about the same time as Ramos told APSUD delegates how he stood for a 'green' "kinder and gentler" APEC, he addressed the ABF as "my fellow tigers", saying "Let's go for it. Go. Go. Go. Go. Go." Whatever the "it" was, it certainly was not genuine sustainable development, and the tigers he was talking to were rapidly destroying the environment in which they roamed around looking for new prey — cheaper labour, open economies to plunder, and natural resources to expand their markets and profit margins. Business, Ramos said, was now being engaged as a "full partner" of APEC — rather ironic, given the key role it has always played in driving APEC. With US pressure on to achieve tariff–free trade in information technology products, the infotech corporate barons were out in force at the ABF. People like George David, President of the US–ASEAN Business Council and Chief Executive Officer of Unitech, the 30th largest corporation in the US, with revenues of almost US$23 billion in 1995. The banners and neon lights that flashed "APEC Means Business" could not have been truer.
Unsurprisingly the sorts of social and environmental concerns which Ramos and other Filipino ministers promised to try to advance at APEC did not surface in anything more than a very token form in APEC deliberations. In fact the Philippines government is prepared to liberalise further and faster than its more pragmatic and cautious neighbours in Asia and sees itself as a "trailblazer" for this economic path regardless of the human and environmental costs.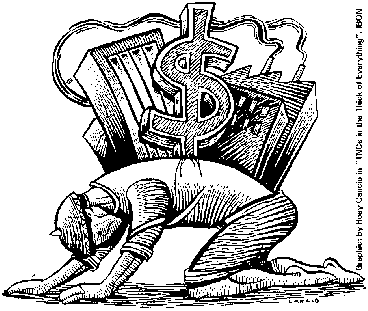 Within the Manila People's Forum, a range of views and positions as to how best to confront globalisation were voiced. Sadly, some seemed entirely consistent with the pro–Ramos pro–free market stance of APSUD, but others were adamant that APEC promotes an anti–people, anti–environment form of development which must be vigorously opposed in favour of building alternatives that do not subordinate people's needs to those of transnational corporations. Alejandro Villamar, of RMALC in Mexico, who toured Aotearoa in July 1996, said that after their bitter experience of free trade, free market policies and processes such as NAFTA, many Mexicans were asking "Are we a nation or a supermarket? And even if we were a supermarket", he added "it's one where most of us are excluded". Lori Wallach, of the US–based Public Citizen's Global Trade Watch warned that "the APEC model pushed by the United States (and its APEC allies) is a true, tested and failed model. The smorgasbord of juicy promises are also old, and now proved false by experience." She described this model as "trade uber alles, the same extreme free trade plan that legally constrains each government's ability to control multinational corporate excesses."
About the Author: Aziz Choudry is a national committee member of the Philippines Solidarity Network of Aotearoa (PSNA).
Kapatiran: is published by PSNA, Box 2450, Christchurch, Aotearoa/New Zealand.