KASAMA Vol. 11 No. 1 / January-February-March 1997 / Solidarity Philippines Australia Network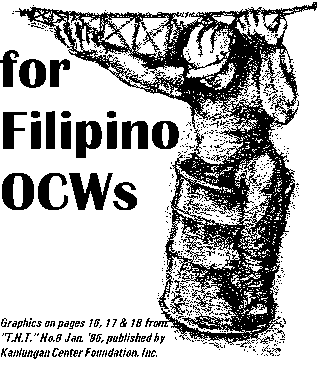 12 February 1997

Dear Friends:

Following is our 1996 Year-End Report on the situation of Filipino migrants. We hope it will provide you an update that would inspire you to continue supporting Filipino migrants and Kakammpi's work. This early, signs foretell continuing abuses against Filipino migrants and we need all the support we can get. We're looking forward to working with you this new year.

Irynn Abano
The hanging of Flor Contemplacion in Singapore in March 1995 shocked the nation and reminded every Filipino about the harsh consequences of working overseas. Yet in 1996, Filipinos continue to trek abroad in droves at the rate of nearly 1,800 departures everyday. The Contemplacion incident also prompted the Philippine government to legislate corrective measures in an attempt to cover for the pitfalls of its aggressive labor export program. The result was a Magna Carta for overseas Filipino that was signed into law in June 1995. The much–vaunted law, however, has failed so far in curtailing abuses committed against Filipino migrant workers. They remain virtually unprotected and their basic rights systematically violated with impunity in most countries that play host to Filipino workers. During the past year, countless among them continue to experience all sorts of abuses and exploitation, especially women migrants.
OCW Deployments
From January to July 1996, official government statistics placed the number of OCW (Overseas Contract Worker) deployments at 323,523. At this rate, it is estimated that by the end of 1996, nearly 600,000 Filipinos would have left the country for overseas contract work. This figure, while slightly lower than the previous year's deployment of 654,022, indicates a continuing pattern of massive labor out–migration of Filipinos in search of alternatives to joblessness and poverty at home.
The Middle East, particularly Saudi Arabia, remained as the top destination of Filipino OCWs, representing about 50% of annual overseas placement. Other major destinations include Hong Kong, Japan, Malaysia, Singapore, Brunei, Saipan and Taiwan. Since the late 1980s, deployment of Filipino workers to labor–short East Asia and the ASEAN countries have consistently increased in absolute terms and relative to total annual deployments. Rapid economic expansion and rising household incomes particularly in growth centers of the region have increased the demand for Filipino factory and service workers.
While the 1996 deployment figure indicates a 10% decline in overseas placement, Kakammpi estimates that actual departures may have gone up due to the swelling ranks of undocumented workers who leave the country to work as "illegal" aliens. This trend is partly in reaction to the increasingly restrictive immigration policies imposed by countries that play host to Filipino migrants. In certain countries such as France, Italy, Jordan and Singapore, undocumented workers represent some 50% to 90% of Filipinos in those countries.
As in previous years, land–based workers represent 75% of total deployments for 1996. The other 25% comprised sea–based workers, indicating that one in every four Filipino OCWs is a sailor. Women migrants now constitute about half of annual land–based deployments. Kakammpi, however, estimates that actual female departures may be over 50% since the bulk of undocumented workers are women employed as domestic helpers and entertainers. Independent estimates placed the number of women departures at 60% of total overseas placement.
Kakammpi also noted that in the last few years, new forms of labor migration have been introduced as expedient alternatives to overseas contract employment. In several Asian countries such as South Korea, Malaysia and Taiwan, Filipinos are brought in to work as trainees for a non–renewable term of usually six months. Interviews done by Kakammpi among its members reveal that this scheme has become popular among foreign job seekers who are, likewise, offered to become local recruiters prior to departure and upon return.
In Europe, the practice of bringing in Filipinos under a cultural exchange program (called Au Pair) has become widespread. The Au Pair system allows Filipinos to work and learn the culture of the host country, get free board and lodging, and receive an allowance. In return, the grantee performs baby–sitting and light housework for the host family. In reality, this program facilitated the recruitment of Filipinos to work as domestic helpers of the host families. Even the Department of Foreign Affairs admitted that the Au Pair Program has been abused by local recruiters to lure prospective maids to get jobs abroad. After program completion, the grantee usually stays on to work as the domestic helper of the host family.
The exodus of Filipinos for overseas work is expected to continue for some time due to continuing job scarcity, low wages and poverty at home. For the last two decades, overseas placement has outpaced new job generation in the country. In 1995, Kakammpi estimated the country's job scarcity ratio at 69% of the total labor force. While the government reported a decline in unemployment rate for 1996, the improvement is too marginal to generate any significant dent in the employment situation.
Bailing out the Philippine Economy
The Philippine government reported an impressive 6.8% growth in Gross National Product (GNP) for 1996. Trade, investments, production and foreign reserves registered increments over the previous year's performance. But nothing in the country's balance sheet is perhaps as impressive as the income remitted by overseas Filipinos. In 1996, the country's 4.2 million overseas Filipinos remitted $7 billion, a significant increase of 43% over 1995's figure of $4.9 billion. According to Labor Secretary Leonides Quisumbing, the actual amount can reach as much as $14 billion if income remitted through unofficial or non–bank channels is included.
Economists have warned against getting overly excited about the 6.8% GNP growth rate, arguing that a large chunk of this growth is accounted for by OCW remittances. Even the World Bank has cautioned developing countries including the Philippines not to depend on the inflow of salary remittances and foreign investments to sustain the growth momentum.
For the last several years, income remittances of overseas Filipinos have buoyed up the Philippine economy. It has been the country's top dollar earner since the early 1980s. OCW remittances have outpaced exports by 15 percentage points in the last four years. This is enough to close the widening trade gap which in 1996 has swelled to $10 billion.
The National Statistics Office (NSO) reported that in 1995, 16% of the country's households depend on overseas remittances for at least 30% of their annual income. For 1996, the same agency revealed an increase in the income of households which partly or wholly rely on OCW remittances.
Continuing Tales of Woes and Tragedies
And while the Philippine economy relished the generous inflow of dollar incomes from its overseas workers, the nation continued to mourn its dead and abused citizens abroad. Last year was another bad year for Filipino OCWs.
Everyday, at least two OCWs return to the country in a box. Excluding undocumented workers, this translates to 700 lives lost annually. In November last year, a Congressional hearing was convened to inquire into the mysterious deaths of Filipinos working abroad. In that hearing, it was revealed that in 1996 alone, at least 150 deaths occurred under suspicious circumstances. During the same year, Kakammpi monitored some 35 mysterious deaths of Filipino OCWs. Of these, 30 were women migrants.
Documented cases describe similar and equally appalling stories of violence and deaths. These cases are now mere statistics in a list that gets longer every year. To date, most of these cases have remained unresolved. The families of victims are rendered helpless especially because of the apathetic attitude of government officials who regard these cases as embarrassing incidents that unnecessarily complicate their stately diplomatic functions.
Even today, thousands of Filipinos are languishing in jails abroad for various offenses. As of December 1995, the media reported at least 2,173 OCWs serving prison terms in such countries as Saudi Arabia, United Arab Emirates, Israel, Pakistan, Brunei, Malaysia, Cambodia, Singapore, China, Taiwan and the United States. Among them were 108 Filipinos awaiting execution for crimes which many of them claimed as fabricated charges, while others complained of unfair trial or unjust punishments for ordinary offenses.
Throughout the past year, media reports and NGO documentation chronicled a continuing pattern of widespread abuses committed against Filipinos in most countries of destination. During the past ten years, an average of 12,276 complaints were processed every year by the Overseas Workers Welfare Administration (OWWA). The most common among these complaints were maltreatment, contract violation or substitution, non–payment of salaries, underpayment, physical abuse, rape, sexual assault and sex trafficking.
Based on partial reports, the situation could have worsened in 1996 compared to previous years. Kanlungan Center Foundation, for example, reported that in the first five months of 1996, some 94,136 Filipino overseas workers were reportedly in serious trouble, more than double the 40,971 monitored in all previous years. OWWA, on the other hand, reported that in the Autonomous Region of Muslim Mindanao (ARMM), reported welfare cases of abuses increased to 25 cases per month from the previous year's 5.8 per month. Reported cases provide only a partial picture of the actual extent of abuses experienced by Filipinos abroad. Most victims do not bother to report at all for lack of interest believing that nothing can come out of it, or for fear of reprisal or public exposure of the case. Others fail to report or file legal cases for lack of documentation or lack of knowledge on possible legal recourse. A survey done by Kakammpi among its members indicate that nearly 75% of the respondent migrants have experienced abuse, harassment or contract violations, but only less than 5% actually reported their case and only 2% filed cases and pursued their legal claims.
Philippine Overseas Migration in Crisis
In 1975, then President Marcos embarked on an aggressive labor export program as a temporary measure to reduce unemployment and prop up the sagging economy. The program which was meant to be temporary, became a permanent one as successive governments after Marcos pursued the same labor export policy. The Ramos Administration even elevated the program as one of the pillars of its quest for NIChood status by the year 2000. After more than two decades of massive labor export implemented without corresponding protection measures and re–entry program, Philippine overseas migration faces a serious crisis. The crisis situation is best depicted by the dramatic rise of violent deaths, sexual abuse, torture, unjustified detention, mental breakdown, family separation and abandonment, and youth delinquency among migrants and their families.
It is now apparent that the government had lost control of the situation. Today, it speaks of privatizing the whole migration industry, arguing that labor movements across nations can be better regulated according to their supply and demand situations. But while world leaders triumphantly speak of liberalization and free trade, labor–importing countries are imposing even more rigid protective barriers against the entry and continued stay of foreign workers.
Today, the estimated 4.2 million Filipinos abroad face an uncertain future. While they continue to work under harsh and risky environments without adequate safeguards, they are increasingly threatened with job insecurity and stiff immigration policies. And the prospect of decent employment back home remains as elusive as before.
Kakammpi 1996 Year–End Report
IRYNN ABANO, International Officer, Kakammpi, 17 Calderon St., Melitona Estate, Barangay Marilag, Project 4, Quezon City 1009, Philippines
Tel: 438 5228 Fax: 438 5227
Related Article: