KASAMA Vol. 10 No. 2 / April-May-June 1996 / Solidarity Philippines Australia Network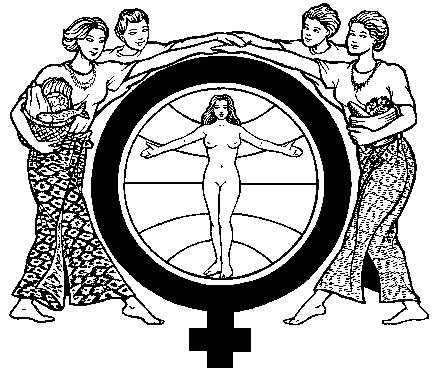 Graphic: WOMEN & HEALTH by Grace de Jesus–Sievert, Isis Clipart Vol.1 No.1, 1995
Isis International, Manila
During March this year RHONA BAUTISTA from the Manila office of Isis International visited Australia. Rhona manages the library of the Resource Center and Information Program. ANTHONY BROWN, a free-lance journalist and presenter for 4ZZZ Radio, taped this interview with her on March 18th. Rhona arrived in Brisbane from Honiara where she had been facilitating workshops on information storage and retrieval with the women of the Soloman Islands. While in Brisbane she met women from a number of groups including Sisters Inside, Women's Infolink, and Keriba Warngun. We wish to thank the women who extended the hospitality of their organisations and those who attended our evening meeting, for sharing their time and commitment to women's global networking. Special thanks to Maureen Watson and the arts group of Keriba Warngun for inviting us to join in their workshop and share a day in their lives.
Rhona, can you tell us about Isis International and why you are visiting Australia?

Rhona: Isis International is a women's organisation based in Manila. It was founded in 1974. Before it was based in Rome and then it transferred to Manila in 1991. The objective of Isis is to link women and provide channels among women's organisations and networks. I'm here in Australia to visit some women's resource centres and women's organisations. I'll be here around 8 days, 4 days in Brisbane and 4 days in Sydney. I'm planning to interview some of the women's resource centres just to get some basic information on what they do, their objectives, their programs and of course how they manage their resource centres.
What particular problems do women in the Philippines experience?

Rhona: Basically it's poverty and unemployment. And because of the Mount Pinatubo eruption, especially in the northern Luzon region many women don't have means of supporting their families.
Do you think sexual exploitation is a major problem for women from developing countries like the Philippines?

Rhona: Yes, it's a major problem. Actually Philippines is one of the more badly affected countries. Many children are involved in the trafficking, we have paedophilia in the country and many teenagers are victims of the white slavery trade.
What kind of representation do women have in government and business in the Philippines?

Rhona: Representation is not enough. We have several women senators, but that's it, and they're quite traditional or what you call conservative.
So they really don't progress the women's rights movement in the Philippines?

Rhona: Well, they progress because of the women's organisations. The women's organisations and feminist movement is quite strong and very vocal about women's issues. But at times that is basically the problem — we have a lot of traditional conservative officials in the government.
You've recently visited the Solomon Islands. Can you tell us what the situation is like there for women?

Rhona: One problem in Soloman Islands women's issues is wife abuse or the domestic violence. A lot of women are victims of bashing or verbal abuse and physical abuse by their husbands. And it's not really being discussed among the women because it's taboo. And most of the people in Soloman Islands are Christians. Like in the Philippines, their religion is really strong. Their beliefs are that the family is always private and it shouldn't be discussed in public. So, domestic violence is a taboo subject.
What kind of women's organisations are in the Solomon Islands?

Rhona: There is SIWNET. SIWNET is Soloman Islands Women's Information and Communications Network. SIWNET provides information by radio—they have a radio program. They give information on women's issues like education, women's rights, health, environment, etc.
How do you think Australian women can help women from developing countries?

Rhona: Well they have to link or build contacts with developing countries. Because we're quite isolated — we are Third World and you are First World. And there's really a gap in communication. I think especially in the Pacific regions, like on Vanuatu, Tonga and Soloman Islands, they don't have access to information, they're quite isolated. That's what they're asking for — access to information and links with women's organisations.
Do you think there's similarities between women's rights here in Australia and women's rights in countries like the Philippines and the Solomans?

Rhona: Well, I'm not sure yet with Australia. But I know that the feminist movement in Australia is really quite strong and you have more rights, I think, compared to developing countries like the Philippines. Of course In the case of Soloman Islands you have to consider the culture and religion. The women are quite oppressed, like in the Philippines, because the dominant religion is Catholic. Most of them are Christians.
What's it like for women living in the Philippines who are aware of feminist issues?

Rhona: Well, most women are repressed as I've told you because we believe in the Catholic system, we were raised Catholics. So if you are going to talk about abortion or homosexuality, well that's quite a very, very taboo issue in the Philippines. But some women are slowly developing their awareness in women's issues and that's why the women's organisations in the Philippines are really trying to educate the women through their programs. Like Isis, for instance — for the coming three years, we have a program on educating young girls. So we're promoting reading and writing and of course we're disseminating information among the women's organisations and their contacts.
Copies of Isis publications are available at the CPCA Brisbane library, 84 Park Road, Woolloongabba.
Isis International is a women's NGO founded in 1974 to promote cooperation among women and groups working for women's empowerment and full participation in development.
It aims to empower women through information–sharing, communication and networking. Its network reaches over 50,000 individuals and organizations in 150 countries, in both rural and urban areas, including grassroots women and groups, NGOs, and development planners and policymakers.
Isis provides communication channels, support, training and services for Third World women and groups. Its activities include resource centers and information-sharing, publications, multi-media communication and research.
Isis has two offices – one in Manila that has a special focus on the Asia-Pacific region; and another one in Santiago, Chile that coordinates the Latin American and Caribbean Women's Health Network. Each office produces a regular magazine: the quarterly
Mujeres en Accion
in Spanish from the Chile office and the triannual
Women in Action
in English from the Manila office. The Manila office also publishes the monthly
Women Envision
which provides the latest update on the 1995 World Conference on Women as well as information on other women's conferences, gatherings, issues and campaigns; and the monthly
Media Information Pack
aimed at generating wider media coverage of the critical issues confronting Asia-Pacific women.
Isis International, PO Box 1837, Quezon City, Philippines. Phone/Fax: 0011 632 435 3405/3408/924 1065
Email:
isis@isiswomen.org
WebSite:
http://www.isiswomen.org/